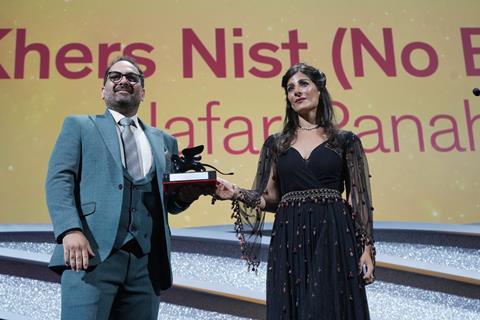 Emotions ran high at the closing night of the Venice Film Festival, where the Golden Lion was awarded to Laura Poitras' All The Beauty And The Bloodshed, only the second documentary to win in the festival's 90-year history, but the third consecutive film directed by a woman to win the top prize, following Chloe Zhao's Nomadland in 2020 and Audrey Diwan's Happening in 2021.
There was also an outpouring of solidarity for Iranian director Jafar Panahi whose No Bears was awarded the special jury prize while he is custody in Iran, as well as fellow filmmakers Mohammad Rosoulof and Mostafa Aleahmad, also detained in the country.
Actors Mina Kavani and Reza Heydari accepted in the award in Panahi's absence. The director received a standing ovation following Kavani's acceptance speech which concluded by her saying: "All of us are standing up for the power of cinema, we are all standing here for Jafar Panahi."
"I would love to bring this in jail with me and take it to him directly," Kavani told Screen after the ceremony as she held up the prize. "The only thing that is important for Jafar is the making of movies, that is all. He is a lover of cinema and, despite the situation and all his limitations, he just wants to make movies."
Iranian-born Kavani lives in exile in Paris.
Collecting the Golden Lion, Poitras encouraged those listening "to do whatever we can" for Panahi's release.
Italian director Luca Guadagnino, whose film Bones And All won the Silver Lion for best director, said in his acceptance speech he was dedicating it to, "Rosoulof and Panahi, who have been arrested by the Iranian government for subversion. Long may they live, long may subversion live, and long live cinema."
Bones And All was also awarded the Marcello Mastroianni prize for best young actor for Taylor Russell.
Once outside the Palazzo del Cinema awards hall, Guadagnino told Screen he was dedicating the award "to two people that are not seen here physically but we are all looking at them with great empathy and with great emotion. I really wish for Mohammad and Jafar to be released immediately.
"This prize means a lot for many people and for many reasons. It means a lot for the movie, it means a lot for me and also that the people watching this movie will feel seen," he added of Bones And All.
Colin Farrell, who won the Coppa Volpi for best actor for his role in Martin McDonagh's The Banshees Of Inisherin, participated via video-conference from Los Angeles. The actor held up a bunch of bananas in lieu of the award while making his acceptance speech after informing those present at the ceremony that he was connected up from his publicist's kitchen.
Cate Blanchett, who won the best actress award for the second time in her career following I'm Not There in 2007, joked while holding the Volpi Cup prize on stage, saying she would use it later to "drink a lot of wine out of, and I am not joking."
Julianne Moore presided over the competition jury comprised of Audrey Diwan, Mariano Cohn, Leonardo di Costanzo, Leila Hatami, Kazuo Ishiguro and Rodrigo Sorogoyen. Ishiguro did not attend the ceremony, as the author of Never Let me Go had been judging from his hotel room since testing positive for Covid-19.
"Everyone was extremely emotional. It was a very emotional experience," said di Constanzo after the ceremony.
Robust industry presence
The international industry was out in force at this year's festival. The Venice Production Bridge (VPB) posted an increase in the number of physical attendees this year compared to 2019 in a sign the industry is fully recovering after two complex, pandemic-affected years. Some 2,477 industry professionals attended this year's event compared with 1,742 in 2021 and 2,410 in 2019.
"It's the quality of those present that makes the difference," said Venice Production Bridge head Pascal Diot of the 11th edition. "Since Venice is expensive [to attend], the people who are coming are the top decision makers. The meetings that take place are all very efficient, as those present at the ones that can say yes or no right away.
"This means we are seeing some 80% of the projects are completing their financing with people they meet here within six months."
The Venice Film Festival closed on Saturday September 10.