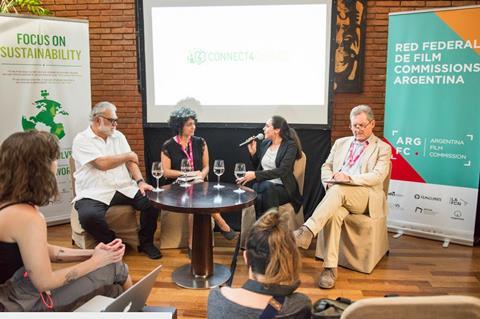 Against the backdrop of the COP24 UN climate summit in Poland, Latin American festival directors in Ventana Sur discussed environmentally friendly best practices at a Focus on Sustainability session this week.
The session, presented by Connect4Climate, a climate change communications initiative based at the World Bank Group, and its Film4Climate campaign to effect social change and environmental protection through cinema, also unveiled actor and activist Calu Rivero as the global Film4Climate ambassador for Argentina.
"There is no Planet B like there is a Plan B," said Rivero, who added that she plans to shoot a film in 2019 that she said would be Argentina's first 'green' film. "Everyone here is capable of change so let's get to work."
Joining Rivero in the session hosted by Giulia Braga, programme manager of Connect4Climate, were Ivan Trujillo, director of Guadalajara International Film Festival, and Florencia Santucho, director of FINCA (Festival International de Cine Ambiental).
Trujillo reported that his festival had commissioned a review of its carbon footprint and energy consumption. "We have taken measures to reduce our carbon footprint… one of the things that have a big impact are private jets, but it's very difficult to tell a celebrity that he will travel by bus or simply on coach. We do not have plastic bottles. We have reduced consumption of paper and we're promoting digital catalogues."
This year the festival invited invited biologist Alfredo Cuarón to Guadalajara where the biologist and brother of ROMA director Alfonso presented a study on the negative impact on the environment of a film by Felipe Cazals in which snakes used in a torture scene were not rounded up after the shoot and ate the surrounding vegetation. "It shed a light on how films could be dangerous," said Trujillo.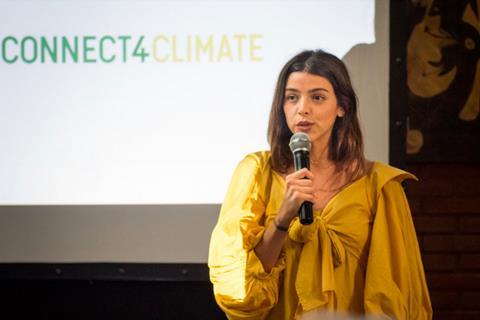 The festival director added that he had been working with the late British producer Don Ranvaud to create a curriculum for a film production degree that incorporates best practices.
Santucho told the session how FINCA and Connect4Climate launched a campaign to promote shorts that encourage action on climate change. FINCA recently presented 10 finallists at Guadalajara in a film contest under the auspices of the Green Film Network, an umbrella activism group that comprises 40 international festivals.
"Youth is a central element in this change and film is definitely a tool that allows us to reach new goals," said Santucho, adding that workshops were an example of other ways to spread the message of climate protection to storytellers.
Francis Dobbs of Connect4Climate noted how film commissions across Europe were committed to protecting the environment. "All of them are looking at creating carbon reporting and developing calculators so you can track your impact on productions."
Dobbs noted how the producers of Mamma Mia! Here We Go Again, the last Doctor Who series, and Downton Abbey were made under guidelines that encourage best practices and include the use of LED lighting, waste diversion, recycling on set and after principal photography, and donations of items used on productions.
Turning to Hollywood, Dobbs told attendees of the Producers Guild of America's Green Production Guide and noted that every major studio has sustainability officers. While messaging was key, incorporating those sentiments in storylines was a trickier challenge but worth the effort.
"Things haven't moved so fast on the content side," said Dobbs, "probably because people feel they don't want to be preachy… There are ways in which one could write in that when characters leave a room they turn off the light; they might cycle rather than use a car; save water' some of the product placement could be solar panels and such like, so there are ways in which that content can develop greatly."
Jerome Paillard, the Ventana Sur chief and head of Marché du Film in Cannes, spoke about the market's recent initiative documentary which has shone a light on environmental issues. "The issue of sustainability is important to the Marché du Film and the Cannes festival as a whole, and is well reflected in our activities through the Doc Day and Doc Corner," he said.
"It is great to see that this important topic discussed here at Ventana Sur as well. We have partnered with the World Bank Group Connect4Climate programme for a number of years, giving sustainability a focus within Doc Day and the Marché – widening the discourse on both content and production methods.
"In 2015, Luc Jacquet's film Ice And The Sky closed the Cannes Film Festival. Described as a "hymn to save the planet", it was a significant gesture acknowledging the challenges of climate change and the role cinema can play.
"And in 2016, on the tenth anniversary of Al Gore's documentary An Inconvenient Truth, producer Lawrence Bender gave an impassioned address at a joint Marché/C4C Doc Day session. The sequel of An Inconvenient Truth also premiered at Cannes.
"Last year, the Doc Day brought Astronaut Thomas Pesquet to the table, and the same issues were of great concern to him. We hope you can all help us spread the word, and we look forward to continuing our work. We can all make a difference"
Ana Aizenberg, Argentina's film commissioner who coordinates Film4Climate's industry activities representing Latin America, said she felt positive about the ambitions of her partners to move ahead in an environmentally conscious way, but was under no illusion about the task ahead. "Hard work awaits us," she said.