Mexico's renowned Morbido Fest is moving forward with its latest brand extension as brass prepare to launch the long-awaited pay-TV channel backed by Alex Garcia's AG Studios and have set their sights on reaching US audiences by late 2017.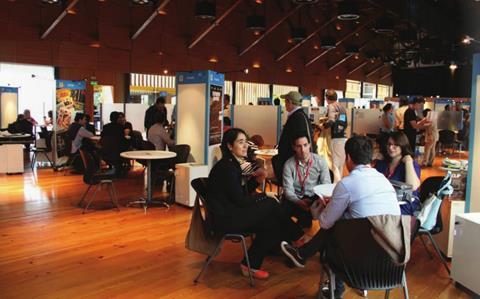 Morbido Fest CEO Pablo Guisa Koestinger and Mexican genre master Adrián Garciá Bogliano are in Buenos Aires at the Ventana Sur market to secure rights from producers to a raft of new and catalogue horror, fantasy and sci-fi content.
Scherzo Diabolico and Here Comes The Devil director Bogliano acts as general coordinator of the channel, which is scheduled to launch in Mexico in two weeks and in March as an app-based streaming platform throughout Latin America, excluding Brazil.
Speaking on Wednesday on a genre festival panel at the market's Blood Window sidebar, Koestinger said all films will play in their original language with subtitles.
Morbido TV plans to include Brazilian content once it can afford to provide Portuguese subtitles and could offer sufficient volume from Brazil to satisfy that country's transmission laws.
Koestinger told Screen he was targeting a Brazilian launch in 2018, a year or after he aims to reach US audiences.
Another hurdle facing the start-up is that pay-TV channels typically require transmission of HD content. Koestinger and Bogliano will also be exploring conversion costs with local producers during their time in Argentina.
"The spirit of Morbido TV is to have our own productions but it will take time," Koestinger said. "We have started with small projects and have experimented with a webisode and screened it all over the world. We're open to all types of content."
Earlier in the session, Koestinger remarked upon an oft-heard theme at Ventana Sur, namely the challenge of regional variations and cultural idiosyncrasies that make it hard for Spanish-language content to find broad commercial success within Latin America.
Panel moderator and Mar Del Plata Film Festival programmer Pablo Conde asked speakers to assess how Latin American content has been received at their international genre festivals.
Daniel Cohen of the Strasbourg European Fantastic Film Festival in France screened Emiliano Rocha Minter's Mexican horror Tenemos La Carne this year and noted how Juan Carlos Maneglia and Tana Schembori's Paraguayan thriller 7 Boxes was a big drew several years ago. "A lot of people showed up. They're curious."
"South American cinema in Croatia is not well know," said Stjepan Hundic of Croatia's Fantastic Zagreb, who added that he had to programme 70% European films to qualify for funding. "It's very rare to see it in theatres of on TV. We have to think about our audiences, but one of the reasons I'm here is to change that."
Mikko Aroma of Night Visions in Finland instigated a Blood Window tie-in at this year's spring event in his country. "Our mission is to educate the audience in Scandinavia to respect Latin American pictures," he said.
There were similarly encouraging viewpoints from Lindsay Peters, industry director at Canada's Fantasia International Film Festival, and Alan Jones of the UK's FrightFest.
Jones said he screened Bogliano's Room For Tourists years ago "and went from there." More recent highlights include Jonas Cuaron's Mexican thriller Desierto and two Argentinian horror films – Javier Diment's The Rotten Link and Daniel de la Vega's White Coffin.
Koestinger observed how Blood Window itself had been an "important engine" for transforming local tastes. Films that have been pitched or screened as works in progress have got released in Mexico, such as horror thriller Downhill from Chile's Patricio Valladares.