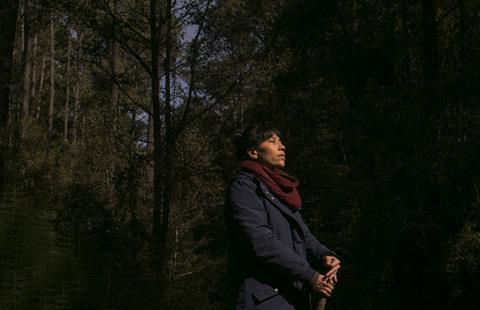 Ventana Sur and San Sebastian Film Festival have announced this year's slate of 17 Proyecta selections looking to promote co-production partnerships between Latin American and Europe.
The annual market in Buenos Aires has gone virtual this year due to the pandemic, and Proyecta participants have recorded video pitches that will be assessed by a panel of producers, programmers and sales agents from December 1-3.
The third annual Proyecta line-up comprises 12 Latin American projects chosen by Paulo Roberto de Carvalho (Autentika Films), Esperanza Luffiego (San Sebastian Film Festival) and Clara Massot (Ventana Sur); one Guatemalan project from the EAVE Puentes-Europe/Latin America Co-production Workshop; one Brazilian title from Brasil CineMundi; and three European projects from the ninth San Sebastian Europe-Latin America Co-Production Forum.
Each of the intensely personal projects speaks to the socio-political situation in Latin America, or to forces that shaped the region.
Several filmmakers who spoke to Screen revealed the motivation behind their projects. All are looking for co-production partners in order to move closer to starting production. Full synopses provided by Proyecta appear below.
Spectrum (Espectro) director Inés María Barrionuevo got the idea for her drama about a woman who returns to Cordoba to spend an unsettling quarantine in an old house from personal experience.
"It's my fifth movie and the most personal one," Barrionuevo told Screen. "I started writing this story while I was living in a house during the quarantine in Cordoba. There were noises everywhere, things moved without reason, I couldn't sleep. So I wanted to write this contained story about a woman and a ghost."
Barrionuevo's Gualicho Cine is producing with Vega Cine in Chile and the plan is to start production in late 2021.
Luna Marán is directing Cicadas (Chicarras), which follows a trailblazing female elected official from an indigenous community in Mexico who takes on the backers of a mining project. The production is eyeing a summer 2021 start in the southern Oaxaca region.
"I'm on my fourth term as a civil servant in my community," said Marán, who hails from the Zapotec community of Guelatao. "I realise how difficult it is to maintain a balance between individual needs and the collective community interest."
Producer Sofia Gomez Cordova, Marán's business partner at production company Brujazul, adds, "It's a political film but also a drama that comes from the point of view of these women. It's an erotic film that shows the gaze of Abril as a lover, a mother, and someone who defends her territory and way of life."
Agustina Comedi says of her documentary Whores Like Us: "It's an essay about a group of women sex workers in Buenos Aires and Cordoba. Their stories are interspersed with archival material that shoes how they have been stigmatised.
"My films are about silent things, things that cannot be said – taboo, stigma. I got to know these women because a group of them went to see my previous movie [the intensely personal International Documentary Festival Amsterdam 2017 selection Silence Is A Falling Body] and we became friends. I've been working on this for a year."
"I'm interested in the idea of territory and belonging, and the relationship between coloniser and colonised," said London-based Belly Up Trout director Sebastian Lojo, whose film explores the "pressure cooker" hyper-masculine environment on a trout farm deep inside the Guatemalan rainforest.
"I'm interested in masculinity and how you're supposed to construct yourself as a man," added Lojo, whose first film The Ghosts (Los Fantasmas) premiered in the Bright Future Competition at IFF Rotterdam this year. He hopes Proyecta can kickstart the process of finding co-production partners and enable him to start production in the second half of 2022.
The 12 Latin American projects are:
Cicadas (Chicharras, pictured, Mexico-Costa Rica)
Dir. Luna Marán
Prd. Sofia Gomez Cordova
Brujazul
Abril, a young single mother in an indigenous, male-dominated Zapotec community, is the first woman to hold a position on the town council of her village. Her difficulties get worse when a government mining concession comes to light. Abril will have to take a stand in defence of her territory and way of life, as well as her decisions as a woman, a lover, and mother.
Lonely Hearts (Coraçōes Solitarios, Brazil)
Dir. Caru Alves de Souza
Prd. Rafaella Costa
Manjericão Filmes
In the midst of a serious economic crisis, Julieta tries to keep her decadent porn movie theatre in downtown São Paulo. Devouring books and obsessed with happy endings, Julieta helps everyone who crosses her path, but is unable to help herself. Pressed by a property developer to sell her cinema, she tries to resist in every way and preserves the place with the help of her friends and her fertile imagination.
The Mother's Son (El Hijo De La Madre, Cuba-Colombia)
Dir. Claudia Izquierdo
Prd. Dany Celeiro Rodríguez
Dany Celeiro Rodríguez
Octavio, a young man with dwarfism, tries to confront his overprotective mother, Carmen. He tests the limits by competing in an illegal race where he loses the car of the hotel where his mother works. Carmen once again tries to protect her son, but Octavio decides to resolve the situation on his own.
The Desired Son (El Hijo Deseado, Argentina)
Dir. Ariel Rotter
Prd. Juan Pablo Miller
Tarea Fina
Javier and Lorena are an established couple who have been trying to have a child by any means for years. One day, Camila, a colleague of Javier's, shows up to tell him she is pregnant by him.
The Castaway (El Náufrago, Argentina)
Dir. Martin Farina
Prds. Mercedes Arias, Martin Farina
Cinemilagroso
"Willy" Villalobos was a militant Montonero (left-wing guerrilla) who after being imprisoned in 1975 went to live in exile in Europe in 1979. After his return to a democratic Argentina, he experienced a loss that left him aimless and forced him to move to a town in northern Uruguay. It will become a dreamlike space where ghosts are revealed among the dunes that devour the houses under the lighthouse in the night.
Spectrum (Espectro, Argentina)
Dir. Inés María Barrionuevo
Prd. Sofía Castells
Gualicho Cine, Vega Cine
Amalia (40) returns to Córdoba to spend quarantine in an old house. Her husband Dan is in Africa making a documentary and sends her increasingly strange sound recordings. In a nearby apartment lives Fausta (21), a mysterious and attractive young woman whom she spies on. Amalia cannot sleep, the house seems to talk. As communication with Dan becomes more distant, the signs that Amalia is living with a spirit become clearer.
Garden On Fire (Jardin En llamas, Costa Rica)
Dir. Valentina Maurel
Prds. Grégoire Debailly, Benoît Rolland
Geko Films, Wrong Men
Eva hates that her mother wants to renovate the house and get rid of the confused cat that has been urinating all over the place since the divorce. Eva wants to go to her father, who is equally confused and living a second adolescence. Eva can do what she wants, but will soon discover the rage she has inherited from her father.
Matías (Brazil)
Dirs. Filipe Matzembacher, Marcio Reolon
Prds. Jessica Luz, Paola Wink
Vulcana Cinema
Matias, a young aspiring actor, engages in an intense and explosive affair with Rafael, a 35-year-old closeted politician. Between the search for fame, sex in public spaces, and secrets, their relationship is affected by a murder that threatens to tear their worlds apart.
Puán (Argentina)
Dir. María Alché, Benjamín Naishtat
Prds. Barbara Francisco, Federico Eibuszyc, Barbara Sarasola-Day
Pasto, Pucará Cine
Marcelo Pena has been assistant professor of political philosophy at the UBA Faculty on Puan Street for years. After the death of his mentor, the venerable Professor Caselli, a brutal and unexpected rivalry for the chair has opened up with Rafael Sujarchuk, an old disciple of Caselli's who is returning from Germany.
Whores Like Us (Putas Como Nosotras, Argentina)
Dir. Agustina Comedi
Prd. Guido Deniro
Arde Cine
In a post-pandemic and impoverished Buenos Aires, a group of unionised sex workers are trying to make ends meet. The strange normality – more police and paranoia – projects on them new images of abjection and contagion. Can this collective group preserve life, or at least a life worth living? Its function depends on that which causes so much anxiety: bodily contact.
Remanso (Paraguay-Brazil-Holland)
Dir. Pablo Lamar
Prds. Pablo Lamar, Gabriela Sabaté
Sapukai Cine
During the Paraguayan dictatorship Carmen, from the traditional Colorada family (the dictator's party), discovers that girls were abused in a neighbouring house by members of the government. Carmen decides to denounce the crime and suffers the consequences of defying a repressive system.
Trucha Panza Arriba (Guatemala-Mexico)
Dir. Sebastian Lojo
Prd. Joaquín Ruano
Cine Concepción.
Tormented by threats real and imagined, two men and a woman inhabit a trout farm in the middle of the Guatemalan rainforest. Desire, betrayal and psychosis reach boiling point when the owner is forced to hand over the property to his lenders. The trout farm is no longer the safe haven it once was.
The three European projects under the the ninth San Sebastian Europe-Latin America Co-Production Forum are:
Hen (A Tyuk, Turkey-Mexico)
Dir. György Pálfi
Prd. András Muhi
FocusFox
The protagonist is a rebellious hen who yearns for chickens, but the farmer always takes her eggs. The hen decides to hatch her eggs in secret and does so, only because the farmer dies. Through the eyes of the hen, we learn the story of the farmer. A tragic story about people killing each other.
The Anatomy Of The Horse (La Anatomía De Los Caballos, Spain-Peru-Colombia)
Dir. Daniel Vidal Toche
Prd. Ignacio Vuelta
93 Metros
1781, Ángel returns to his village in the Andes he left to join the revolution of Tupac Amaru. From space, a meteorite heads in the same direction. On arrival, time and identity seems distorted to him. 18th century and present day coexist amid the pandemonium caused by the disappearance of a woman everybody is searching for, most of all her sister. Some believe the meteorite may have fallen on her. An exploration of time and colony in the Peruvian heights.
Nearness (La Cercania, France-Venezuela)
Dir. Jorge Thielen Armand
Prd. Claire Charles-Gervais
In Vivo Films.
Sofia departs a life of broken promises in Venezuela to reunite her daughter with her father Kevin in France. Sofia plans to build a future together but Kevin has started a new life with a wealthy vineyard owner. Manipulative games remind Sofia of the grief of her past in Venezuela. But there is a way to escape the oppression of Kevin and of her own mind: by renouncing her old self, Sofia can start anew and finally find a home for her daughter and herself.
Additional projects:
The project from the EAVE Puentes-Europe/Latin America Co-production Workshop is Beatriz, La Sin Ventura (Guatemala, La Danta Films), directed by Fernando Martínez and produced by Mauricio Escobar.
Beatriz, a lady of the Spanish court, arrived in Santiago de Guatemala in 1539 as the wife of the conqueror. Her brother Francisco would become the enemy of Kaji Imox, leader of the Mayan opposition to the new order. After the death of her husband in a war in Mexico, the council finally appoints Beatriz as governor of the new kingdom. One day later, she dies in a tragedy that she predicted with her signature on the takeover record: "Beatriz, La Sin Ventura".
The project that falls under the auspices of Brasil Cinemundi is We Are Not Dreaming (Nao Estamos Sohnando, Brazil) from Céu Vermelho Fogo Filmes. Ulisses Arthur directs and Thamires Vieira produces.
Ciro is a black gay medical student whose term is almost ending, as is his relationship. His monthly living allowance is late and he can't afford to rent the room where he teaches other students to pole dance. Things get worse when Ciro is kicked out of his godmother's house for being gay. Desperate, he takes shelter with Antonio, a black DJ who lives in the building next door.
Ventana Sur runs from November 30-December 4.