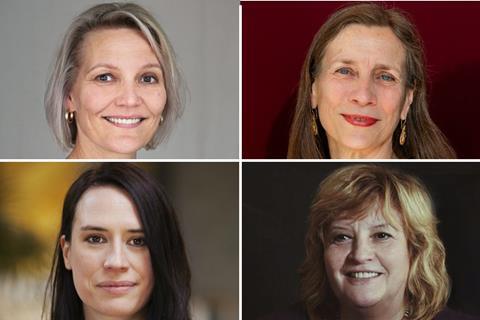 Update: this webinar has now happened and can be viewed here.
Original story: The latest in our ScreenDaily Talks live Q&A series will take place on Wednesday November 18 at 2pm UK time (3pm CET/4pm EET) and will reveal how the directors of the Tallinn Black Nights, Berlin and Rotterdam film festivals are planning their festivals in the middle of the Covid-19 pandemic.
This panel was made possible with the support of the European Regional Development Fund and Enterprise Estonia.
As countries across Europe continue to tackle second spikes in cases of the virus, the directors of the three European winter festivals will share details of the challenges around putting Covid-19 safety measures in place and the hybrid physical and virtual models they are using.
They will also discuss their strategies for retaining strong bonds with local audiences and international industry; the advantages and disadvantages of mounting a hybrid event; and the wider questions being posed to the industry this year around distribution, cinemas, audiences, the role of festivals and independent arthouse production.
The speakers are Tiina Lokk, director of Tallinn Black Nights Film Festival; Mariette Rissenbeek, executive director of the Berlin International Film Festival; Vanja Kaludjercic, director of International Film Festival Rotterdam (IFFR); and Marge Liiske, director of Industry@Tallinn & Baltic Event.
The moderator is Screen International editor Matt Mueller.
The 30-minute discussion will be followed by a 30-minute live Q&A in which the audience will be able to ask questions to the speakers; advance questions can also be sent to ben.dalton@screendaily.com. The webinar password will be emailed after registration.
The webinar will be available to watch on ScreenDaily after it has taken place.
Speakers
Tiina Lokk has been director of the Tallinn Black Nights Film Festival since founding the event in 1997. She is also a film professor, a member of the European Film Academy and a former member of the Estonian parliament.
Mariette Rissenbeek is executive director of the Berlin International Film Festival. After beginning her career at film distributor Tobis Film, she moved into film production at Ziegler Film before launching her own production company. Rissenbeek next joined promotional organisation German Films, where she rose to the position of managing director, and took up her current position at the Berlinale in mid-2019.
Vanja Kaludjercic is director of International Film Festival Rotterdam (IFFR), having taken up the position in March 2020. She was previously director of acquisitions at Mubi and also served as head of Holland Film Meeting; was a programmer at the Sarajevo Film Festival; and held roles at Les Arcs European Film Festival, Cinéma du Reel and CPH:DOX.
Marge Liiske is the director of Industry@Tallinn & Baltic Event, the biggest co-production platform in northern and central Europe. She was previously managing director of public funding organisation the Estonian Film Foundation, before being named managing director of Baltic Event in 2013.