The festival is showcasing virtual reality for the first time, including the first raft of Israeli VR projects.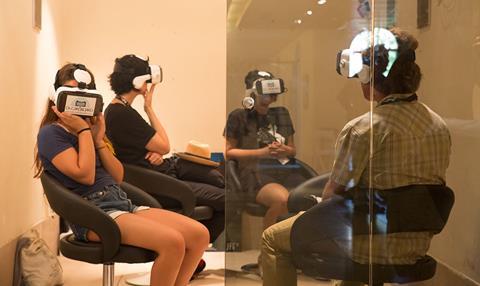 Jerusalem Film Festival this year hosts its first virtual reality (VR) strand, showcasing projects from Israeli film-makers. Six films are on show in a dedicated space on the second floor of Jerusalem Cinematheque, until July 14.
Although technology is considered to be one of Israel's most developed sectors — the country's spend on technological and scientific research in relation to its GDP is the second highest in the world — its film industry has yet to embrace VR, despite the medium's growing presence on the world cinema stage. At Cannes this year, VR was the focus of the Marché du Film's NEXT programme, while festivals including Sundance and Tribeca also placed heavy emphasis on VR in 2016.
A four-day interactive storytelling event held in Tel Aviv in March this year — Steamer Salon, which featured masterclasses, discussions and three international VR experiences — hoped to kickstart the use of the technology in Israel. Three of the projects in the JFF programme were developed in a lab at that event: Gur Bentwich's Go Ugly Early, Tal Goldberg's Kafka 360 and Eldad Eitan's Offstage.
Elad Goldman, co-head of Israeli competitions and industry events for the festival, explains that the key decision was to introduce film-makers, rather than technology experts, to the possibilities of VR. "This narrative use of VR is much more developed internationally but it's totally new in Israel," he says. "Making a film out of it, that's been the challenge."
While the festival installation was supported by Jerusalem Film Fund, which provided money to develop a VR Jerusalem app and supply the headsets, film-maker Nimrod Shanit (Holy Land), who assisted curation of the section, says the funds are not yet receptive to the medium. "We've pitched two non-fiction projects, but they judge it according to regular documentary criteria," he says, noting that VR is expensive for the length of films that are produced. "They haven't managed to get over that hurdle yet."
Shanit believes VR's empathetic qualities make it particularly pertinent to Jerusalem: "VR puts you in the shoes of another person. A Muslim can see Jerusalem through the eyes of a Christian, and a Christian can see it through the eyes of a Muslim. We're trying to bring down those walls through virtual reality."
Three-time Israeli Ophir Award nominee Bentwich, whose English-language short film about speed dating Go Ugly Early is a creative and fun use of the medium and has strong potential to travel internationally, believes the Steamer Salon event was a positive moment. But he does not expect to pursue the medium further. "It's a lack of audience," he says. "What do you do with VR films these days? Why make them if not many people can watch them?"
That question and more will be debated at a festival panel hosted today in Hansen House (2:30pm-4pm), featuring directors Gur Bentwich, Nimrod Shanit and Adi Lavy in discussion with Haaretz's New York correspondent Neta Alexander.