Friends of Don Ranvaud remember the recently passed producer-sales agent-academic. "He was guided by ideals in a world where this is becoming rarer," Salles tells Geoffrey Macnab.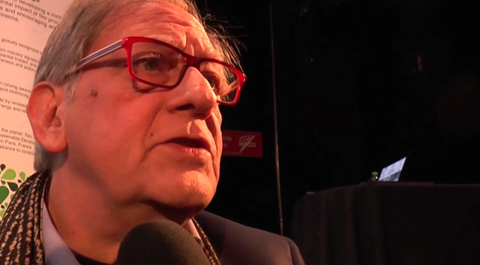 Don Ranvaud was one of the most colourful figures on the international film circuit, a globe-trotting producer-sales agent-journalist-academic whose methods were sometimes chaotic but who inspired enormous affection and loyalty. Following his death last weekend, figures from across the industry have paid tribute to him.
"Don was a passionate, inspiring friend, and all of us who had the privilege to collaborate with him in Brazil are shocked and saddened by his disappearance," director Walter Salles told Screen. "Don's whole life revolved around cinema, and it is telling that he passed away in a film festival [Ranvaud suffered a hear attack at the Montreal Film Festival on September 5].
"What interested him was the humanity in films, what we could learn from the story and its characters. Don was vital for Central Station coming to life, as well as City Of God and Madame Satã. He spotted Pablo Trapero's wonderful work early on, and spent years developing film labs in Bolivia and other Latin America countries. He was guided by ideals in a world where this is becoming rarer and rarer, unfortunately."
In the course of his career, Ranvaud was associated as a producer with many fine films, among them Chen Kaige's Life On A String (1991), Salles' Central Station (1998), Fernando Meirelles' City Of God (2002), Karim Ainouz's Madame Sata (2002) and Meirelles' The Constant Gardener (2005). He didn't always receive the credit he deserved, however, putting the interests of the filmmakers he worked with above his own.
Ranvaud was a university professor, lecturing in film studies at the University of East Anglia; he was a founder of the independent film magazine Framework and interviewed filmmakers such as Eric Rohmer; with Renee Goddard, he helped launch the European Script Fund. A decade ago, he tried to shake up the world of international film sales by organising "an International Filmmakers' Collective" which would give producers far greater control of how their movies were handled in the marketplace.
"Don was a friend. He brought us City Of God which put Wild Bunch on the map," comments Wild Bunch's Vincent Maraval. "There was no better character who can represent what Wild Bunch was at the beginning. He is one of the last true independent figures of cinema - always there, always enthusiastic. We will miss him deeply."
"He has been a member of the international film appreciation society that travels the world excitedly, producing and helping people produce films," Oscar-winning producer Jeremy Thomas, who last saw Ranvaud two weeks ago, says of him, paying tribute in particular to his work in Latin America. "He has been involved in some really good films. He was a wonderful colleague. He lived in Rome. He lived in South America. He was very peripatetic. He was a figure who hardly exists very much anymore, just in love with films. He was a wonderful guy, committed, pure and with many qualities."
"Don was an immense enthusiast. He had a great air and a great manner," British academic and producer Colin MacCabe says. "He was a serious academic for quite some time at East Anglia University and then he was suddenly a name on posters of films in Cannes. He really did it; he went off to become a producer and managed to weave an extraordinary web through a wide variety of countries but with Latin America always one of the bases."
Adrian Wootton, chief executive of Film London, knew Ranvaud for close to 40 years. "I was part of the first intake to do film studies at University of East Anglia as a minor subject and he was one of a triumvirate of lecturers along with Thomas Elsaesser and Charles Barr and he became my friend," Wootton recalls. "He was my lecturer. I worked with him on Framework Magazine. I even ended up taking over a flat of his when he finally left UEA and decided he wanted to be a film producer."
Wootton described Ranvaud as a mentor, and someone who was "always doing 25 things at once."
One of the last times Wootton saw Ranvaud was at the United Nations Conference on Climate Change (COP 21) in Paris not long after the Paris attacks (Ranvaud was a "Creative Producer" at Connect4Climate.)
"He was Catholic in his tastes; passionate about filmmaking, passionate about movies and fostering and supporting talent. He worked in Chinese, Italian, Spanish and Latin American cinema. He was extraordinarily inspirational and so much fun - such a lively, engaging and kind man."
Another industry figure who'd known Ranvaud for many years is Pascal Diot, director of the Venice Film Market. "Don was indeed a close friend of mine and I have been really touched by the news [of his death]," Diot told Screen. "Especially that since Cannes, I have been together with him and Giulia (Camilla Braga) setting up a Green Cinema panel here in Venice in collaboration with the World Bank. I talked to him less than 10 days ago."
"I knew him for 30 years and he was such an open-minded, hyperactive and curious pal, always eager to meet new people. Most of all, he was a gentle and faithful man, always smiling. I will miss him a lot and the industry will miss him too."
Christian De Schutter, Manager of Flanders Image, was likewise fulsome in his tribute. "Don was an extraordinary human being. It was always a joy to see him at festivals. He would never brag about his achievements, the productions he was involved in such as City Of God, The Constant Gardener and Farewell My Concubine to name just a few.
"We should also not forget the work and efforts he put into making our industry conscious about the necessity of reducing its CO2/ecological footprint," De Schutter said. "The past few years he has invested a considerable part of his time and efforts to convince filmmakers and funding bodies to switch to sustainable filmmaking, to become more environmentally conscious when it comes to filmmaking, and to change attitudes."
Summing up the huge goodwill toward Ranvaud, veteran sales agent Gary Smith, CEO of Vumanity Content, commented: "The thing about Don was that he had an unwavering passion for film and he was a gentleman."