Adaptation of internet novel Battle Through The Heavens in the pipeline.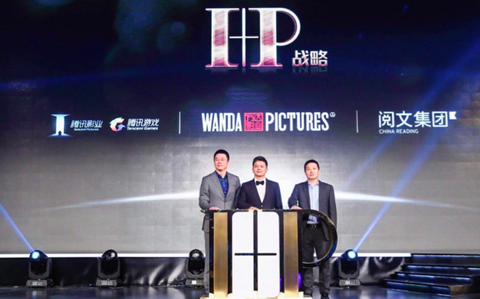 China's Wanda Group has unveiled a strategic partnership with Tencent to develop IP across multiple platforms at the ongoing Shanghai International Film Festival (SIFF), along with an extensive new slate.
During an event at Wanda's upscale hotel, Wanda Reign On The Bund, the two companies said they would tap leading writers and directors to develop intellectual property across films, TV series, games and VR platforms.
One of the first projects the two Chinese giants will work on together is an adaptation of best-selling internet novel and animation property Battle Through The Heavens.
New Wanda film projects announced at the event included big-budget action film Robosaur Wars, to be directed by Lu Chuan, whose recent credits include fantasy Chronicles Of The Ghostly Tribe and Disneynature documentary Born In China.
Wanda's upcoming slate also includes Xie Dongshen's suspense thriller Evil Minds, starring Liao Fan and Li Yifeng; Zhang Meng's comedy drama Guns And Kidneys; and a slew of other comedies including Trouble Makers, co-directed by Gao Xiaopan and Sun Jibin and starring Gao and You Xianchao; Yuan Weidong's Father And Son, starring Da Peng (Pancake Man); and Lobster Cop, directed by Li Xinyun.
In addition, Wanda announced first-look deals with a slew of Chinese production companies, including Hairun Media, Transcend Pictures, I Do Culture Corp and Sainos Entertainment.
Wanda is also a marketing partner on Paramount's Transformers: The Last Knight, along with China's Weying Galaxy and Huahua Media.