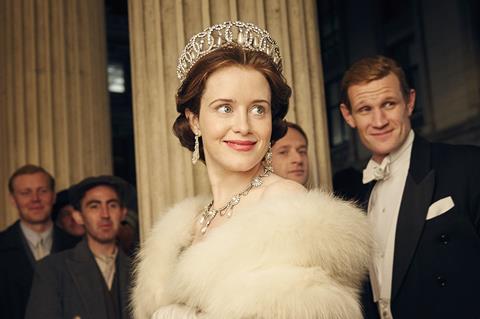 Drama execs are jumping off productions early and a severe nationwide shortage of skilled crews is leaving new productions struggling to staff up, Creative Skillset has warned (reports Broadcast).
Research carried out by the industry skills body has found that the growth in high-end TV production, driven by Facebook, Amazon, Apple, Netflix and Google (FAANG), combined with an increase in domestic production, is significantly increasing pressure on the sector.
In-demand production crew are increasingly "show jumping" from productions before shooting has completed, or in extreme cases before it has even begun, due to offers of higher wages and longer contracts. Productions are also being delayed and start-up times increasing because of issues finding enough crew to fill roles.
Of those interviewed by Creative Skillset, 90% said at least one role was in short supply. Production accountant, production co-ordinator, location manager, line producer, grip, script supervisor and trainees were the vacant roles mentioned most often.
"If we're saying we're a scalable industry, and based on the trajectory we're on, there's a shortage in everything," said one respondent.
The research suggests it is becoming common to bring in crew from other areas, which is taking its toll on budgets and means compromising on skills and experience. Meanwhile, staff are also having to "step up" into more senior roles earlier than their experience should allow, which can impact on health and safety.
The US productions, notably for Netflix and Amazon, are creating significant pay inflation, particularly in some regions and roles, making it difficult for low-budget productions to get off the ground. Some respondents suggest this is beginning to affect the on-screen spend.
One line producer quoted in the research said: "We are going to come to a point in this country where we price ourselves out of the market and that's when I think things will fall over. We are rapidly approaching that."
It is also stalling TV industry progress on improving diversity across the sector as the focus has shifted to simply finding available crew and away from sourcing diverse talent.
Seetha Kumar, chief executive of Creative Skillset, said the research confirmed that urgent steps must be taken to address the lack of skills and talent or the UK production sector or the UK production sector will struggle to maintain and grow its international competitiveness.
"The increase in commissioning of high-end television content from UK producers, and in particular by newer players such as Netflix and Amazon, has provided a welcome boost to the industry and demonstrated that we are world leaders in creating and delivering ambitious, much-loved programming that resonates globally," she said.
The growth in high end TV production, including the international commissioning and investment from the FAANG companies, has partly been driven by the UK government high-end Television Tax Relief for productions based in the UK.
In return for receiving this tax credit, producers pay a voluntary levy, administered by Creative Skillset, which funds skills training and professional development at all levels within the industry to enable sustainable growth.
Creative Skillset has been working closely with more than 50 senior members of the high-end TV production community, including freelancers, companies and guilds, over the past two years to ensure the levy is used to meet demand for more skilled works.
Initiatives include industry-driven production courses, and bursaries to support training costs for freelancers. A Skills Passport scheme, to be launched in 2018, offers a range of industry quality-stamped short courses for freelancers. For those looking to move up quickly in their careers, the Trainee Finder and Make a Move schemes.