The patriotic blockbuster has surpassed The Mermaid.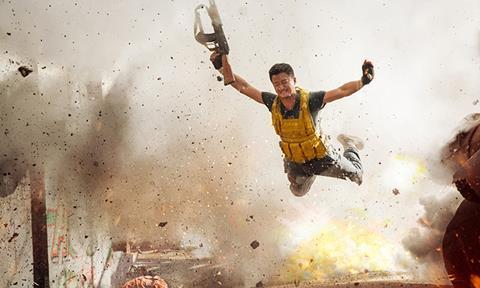 Wolf Warriors 2 has become the highest-grossing film of all time in China, grossing $505.9m (RMB3.4bn) in 12 days.
Directed by Wu Jing, the patriotic blockbuster has broken the previous record set by Stephen Chow's The Mermaid, which grossed $504m (RMB3.39bn) over Chinese New Year in 2016.
Wu also stars in the film as a former Chinese Special Forces operative rescuing fellow countrymen and friends in an unspecified war-torn region of Africa. Celina Jade, Frank Grillo and Hans Zhang round out the cast.
The film is something of an outlier as it was expected to do well, but the first Wolf Warriors, also directed by and starring Wu, did not make it into the year-end top ten when it was released in April 2015. Also, domestic movies usually perform at their best during Chinese New Year, rather than during the summer holidays.
However, the sequel has been released during the domestic film protection period, when Hollywood blockbusters are kept out of theatres, and seems to have tapped into latent demand for entertainment among Chinese audiences.
Made on a budget of around $30m, Wolf Warriors 2 is produced by Beijing Century Media Culture, Beijing Dongfang International Cultural Communications and Bona Film Group. China distribution was handled by United Entertainment Partners and Jetsen Huashi Cultural Media. IMAX China is racing to release a converted version on August 18.
The film has also started its international run, opening in North America through H Collective and WellGo USA, where it has grossed $1.1m since its day-and-date release on July 27. It will be released by Trinity Filmed Entertainment in the UK.
Speaking to local media, the film's producer Zhang Miao said the film's success should be attributed to Wu Jing, but added, "we think this is also a triumph of the communist revolutionary gene in the film, a triumph of the Chinese dream for building a strong nation, and a triumph of the current spirit of the time."