JULY 31 UPDATE: Dunkirk top Hollywood film; Despicable Me becomes eighth biggest animation internationally.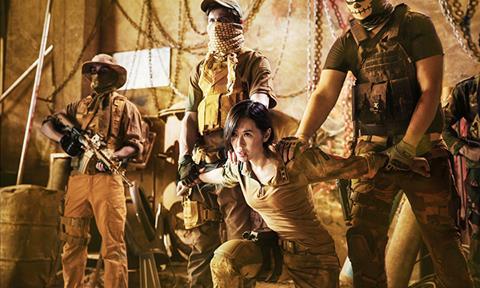 Chinese action tentpole Wolf Warriors 2 grossed an estimated $125m at the weekend as the early tally climbed to $142m.
Jing Wu directs the story centres of a special forces operative pulled back into service when mercenaries terrorise nearby villagers.
The H Collective, the venture launched recently with backing from Chinese businessman Jian-hua 'Kenny' Huang, holds North and South American rights on the sequel to the 2015 film that grossed $80m in China.
WARNER BROS PICTURES INTERNATIONAL
UPDATE: Dunkirk grossed $45.8m from 12,758 screens in 63 markets, dropping just 38% from last week. The war film stands at $131.5m internationally and has crossed the $200m worldwide mark on $232.8m.
Latin America produced $6.7m in opening weekend, tracking ahead of both Inception and American Sniper.
European, Middle East and African territories experienced a 27% drop from opening weekend and are still tracking ahead of American Sniper and Interstellar and remain on par with Inception.
The UK dropped 18% in its second weekend to produce $10.7m on 1,294 screens. Christopher Nolan's Second World War film captured a 54% share of the top five films. The film stands at $35.2m after 10 days, already surpassing the lifetime grosses of Interstellar and American Sniper.
South Korea produced $3.6m from 634 screens, taking the running total there to $16.7m. Australia generated $3.1m in week two for $9.7m. In France, the war drama produced $3.1m on 672 screens for $10m.
Germany produced $2.2m on 623 screens, including previews, generating the best screen average in the market. Mexico generated $2.1m, performing well ahead of Inception and on par with American Sniper.
The film arrived in Brazil on $1.6m, taking in the highest admissions average for all films in release, while Holland ranked number one on $1.2m, dropping a mere 16%. The UAE produced $1.3m in week one.
Spain generated $1.3m for $4.7m after two weekends, ranking second behind the opening of Spider-Man: Homecoming. Russia delivered $1m for $4.4m, while India produced $875,000 for a running total of $4.4m.
Dunkirk stars Fionn Whitehead, Barry Keoghan, and Jack Lowden alongside Tom Hardy, Kenneth Branagh, Cillian Murphy, James D'Arcy, and Mark Rylance.
IMAX generated $6.1m for a mere 25% drop from opening weekend in the holdover markets and bringing the international IMAX total to $16.7m.
UNIVERSAL PICTURES INTERNATIONAL
UPDATE: Illumination's Despicable Me 3 crossed $800m at the worldwide box office on Saturday. The animation grossed $37.9m from 63 territories for a total of $592.4m. With $230.3m from North America, the film stands at $822.7m worldwide.
Despicable Me 3 passed Finding Nemo and The Lion King this weekend to become the eigth highest grossing animated film at the international box office. Despicable Me 2 is number seven on $607.7m.
South Korea produced $8.1m in week one, the biggest opening ever for Illumination in South Korea. Universal executives expect a strong performance this week due to school summer holidays. Japan is holding at number one for the second week in a row after generating $4.8m for $18.2m.
The film is holding at number four in China behind three local films, producing $3.3m for $145.2m. It is the third highest grossing animated film of all time in China and the second highest non-Chinese animated film behind Zootopia's $235m.
The UK is holding at number two in week five on $2.9m for a total of $47m. Despicable Me 3 has four more territories to release over the next two months, including Italy in August.
The Mummy grossed $4.1m from 49 territories this weekend, which raises the international total to $317.9m. The 'Dark Universe' title stands at $397.6m worldwide, with $79.7m coming from North America.
Japan, the film's final release, generated $3.7m. The total exceeds that of Tom Cruise's Edge Of Tomorrow, Oblivion and Jack Reacher.
China remains the top market on $91.5m, South Korea stands at $27.6m, Russia $16.9m, Brazil $14.2m, Mexico $13m, and $11.3m in the UK.
Raunchy comedy Girls Trip debuted in the UK on $2m, including previews, and placed number six. The film had a bigger opening than Bad Moms and Trainwreck, among other recent comedies. The film starring Regina Hall, Queen Latifah, Jada Pinkett Smith and Tiffany Haddish debuts in Trinidad and South Africa this week.
The Beguiled grossed $614,000 from 15 territories for an early international total of $4.3m. Sofia Coppola's drama stands at $14.7m worldwide, with $10.4m from North America.
In its initial international rollout, Charlize Theron spy thriller Atomic Blonde grossed $5.9m through Sierra/Affinity lincensees in Russia, Ukraine, Middle East, Turkey, Sweden, Norway, Denmark, Hungary, Poland, Israel, the Philippines, Hong Kong, Malaysia, Singapore, Taiwan and Vietnam.
Universal Pictures begins its international rollout of Atomic Blonde on August 3, in territories including Australia, New Zealand, Ecuador and Venezuela.
ASIA UPDATE
Besides the heroics of Wolf Warriors 2, China's The Founding Of An Army earned $24m for a $29.4m running total, while Second World War drama The Battleship Island from Ryoo Seung-wan – the biggest release of the year-to-date in South Korea – opened on $22.5m.
SONY PICTURES RELEASING INTERNATIONAL
UPDATE: Spider-Man: Homecoming grossed a further $20.1m this weekend from more than 11,900 screens in 64 markets. Sony and Marvel's tentpole stands at $355.8m internationally.
Spain generated $3.3m in its first week, while two of the biggest markets, Japan and China, will release in August and September.
South Korea is the top market on $50.7m, followed by the UK on $31.9m, Brazil $29.7m, Mexico $25.9m, and Australia $18.4m.
Baby Driver added $8.6m in 36 markets for $46.7m. Germany produced $1.1m, including previews, which is on par with Now You See Me, while Brazil produced $1.3m.
Edgar Wright's film stands at $8.3m in Australia after adding $1.1m in its third weekend, France delivered $1.1m for $3.4m, while Malaysia added $324,000 for $1.2m after two weeks. Mexico will be the next market to release on August 10.
Mubarakan, a Hindi language comedy by Sony Pictures Networks India, debuted at number one in India on $4.1m from 2,450 screens. The film opened in six international markets this weekend for $4.8m from 2,653 screens.
PARAMOUNT PICTURES INTERNATIONAL
Transformers: The Last Knight grossed $9.8m from 53 markets, lifting the international total to $440.1m.
In its second weekend, Brazil added a further $2.6m for a running total of $9.9m, Mexico delivered $1.8m for $12.4m, while Peru added $1.1m for $3.2m.
Columbia generated $603,000 for $2.9m after two weeks, while Panama added $560,000 in week two for $3.1m.
Baywatch grossed $1.8m in 36 markets and the international running total is now $115.6m.
FOX INTERNATIONAL
UPDATE: War For The Planet Of The Apes earned $21m from 61 markets, lifting the international total to $106.4m. The film opened at number one in Mexico on $6.6m, while Australia generated $3.1m, and Indonesia $2.3m.
The third instalment of the Planet Of The Apes trilogy continues to enjoy solid holds in the UK on $2.1m for $20.8m, enough for fourth place in the market. Spain has generated $653,000 for $7.8m and Italy produced $410,000 for $3.3m and second place.
War For The Planet Of The Apes debuts in 14 markets including Brazil, France and Germany this week.
Captain Underpants: The First Epic Movie grossed $3.9m from nine markets for $14.6m internationally. The animation opened in the UK on $3.2m, including previews, for second place. Mexico and Peru are the next territories to release on August 10.
EUROPACORP
UPDATE: Valerian And The City Of A Thousand Planets added $19.6m from 33 markets for $29.5m internationally and stands at $59.5m worldwide. The sci-fi opened top in six territories, led by an impressive result in director Luc Besson's native France on $12.2m in what EuropaCorp sources claimed was the biggest debut of the year-to-date in the territory.
The space opera added $2.3m in Germany for $7.1m after two weekends. It arrives this week in the UK and Mexico, among others.
WALT DISNEY STUDIOS MOTION PICTURES INTERNATIONAL
UPDATE: Cars 3 added $8.5m over the weekend for $122.7m internationally. The animation posted strong holds in the Netherlands, where it dropped 10% from last weekend. Japan saw a 31% drop, while UK box office dipped 39% from last weekend.
In Finland, Cars 3 had the second best Disney Animation/Pixar opening day ever on Friday, opening at number one on $400,000. Belgium generated $500,000, while the Philippines produced $800,000. China, Italy and Germany have yet to release. Mexico is the top market on $15.5m.
Pirates Of The Carribean 5 added $3.5m for a running international total of $604.9m. In Japan, the tentpole added another $2.1m in its fifth weekend of release, dropping by only 33% for $48.3m to date. China is the top market on $172.3m.