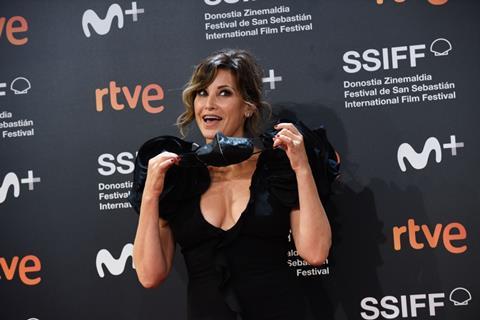 The controversy surrounding the personal life of Woody Allen was almost completely avoided at the press conference for the world premiere of Allen's Rifkin's Festival in San Sebastian on Friday.
The film, which is set during the San Sebastian film festival, was applauded by the press at the end of the morning screenings, as were the film talents attending the press conference: Actresses Gina Gershon and Elena Anaya and producer Jaume Roures of Spain's The Mediapro Studio, all in San Sebastián and Allen and actor Wallace Shawn, joining via Zoom from New York.
No reference was made to the polemic that has accompanied the director for years and most recently caused the termination of Allen's deal with Amazon Studios and the persistent difficulty finding US distribution for his films. Allen has always denied the allegations of abuse by his daughter Dylan Farrow.
"Woody Allen is a great director, one of the most important in the history of film," said San Sebastián's director José Luis Rebordinos, who has a cameo in Rifkin's Festival. " It's not up to me to comment on anything to do with his private life. I'm not a policeman nor a judge. As far as I know, Woody Allen has not been charged nor condemned, if neither the police nor the judicial system found reasons to do so I won't be the one to do it. I have an enormous respect for his work and I couldn't be happier with the fact that Rifkin's Festival is our opening film."
Via Zoom link, Allen said he was "heartbroken" not to be able to attend the opening night due to the pandemic. He chose to set Rifkin's Festival in San Sebastián "because the people financing my film [The Mediapro Studio, also behind other Allen titles like Vicky Cristina Barcelona and Midnight in Paris] wanted me to do a film in Spain".
Having shot in locations including Barcelona and Oviedo, Allen said he recalled how much he had liked attending the San Sebastián film festival in the past "so I thought why not write a film about it?"