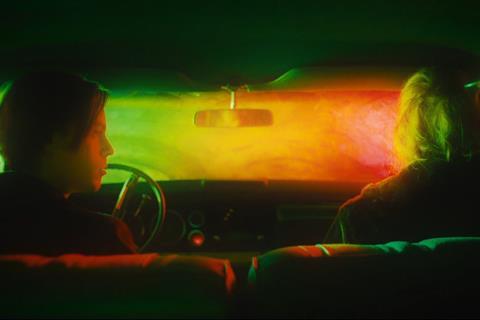 New York and Los Angeles-based arthouse specialist Yellow Veil Pictures has boarded North American sales rights to Vide Noir and will screen the mystery thriller at next week's virtual EFM.
Ariel Vida directed the film inspired by American indie folk band Lord Huron (The Night We Met, 13 Reasons Why) and stars Victor Mascitelli as a young man embarking on a surreal journey through a sprawling, neon-lit city in search of his missing fiancée (Ashleigh Cummings).
His quest leads to the heart of a drug ring for a new experimental psychedelic called Vide Noir.
Lord Huron founder Ben Schneider wrote the screenplay and the band scored Vide Noir, named after its 2018 album, with original, previously unreleased music. Lindsay Monday and Vida served as producers
Vida makes her feature directorial debut on the film and most recently served as production designer on Amy Seimetz's breakout She Dies Tomorrow and Aaron Moorhead and Justin Benson's acclaimed sci-fi Synchronic.
Yellow Veil Pictures co-founder Hugues Barbier said, "Finding its root in the noir genre, Ariel's debut feature wows with each frame, and takes the viewer on an unforgettable journey. Fans of Lord Huron's eponymous album will be in for a treat, and the neophytes will find the perfect soundscape for this breathtaking visual and narrative trip."
Vida said "Vide Noir explores themes of love, death, and our place in the cosmos. An incredible cast and crew brought this nocturnal odyssey to life, and we're thrilled to partner with Yellow Veil to take audiences along for the ride."
Yellow Veil's EFM sales slate includes recently discovered George A. Romero film The Amusement Park, Devereux Milburn's Honeydew, Jordan Graham's Sator, and SXSW Midnighter selection The Spine Of Night.