Hacksaw Ridge and Suddenly Seventeen open in second and third respectively.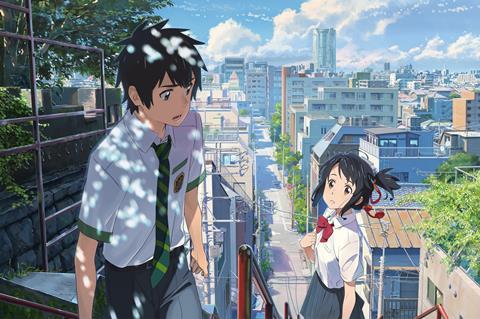 Makoto Shinkai's Japanese animation Your Name retained its lead at the top of the Chinese box office in the week of Dec 5 – 11, adding $30.61m for a running total of $73.48m after 10 days. The body-swapping fantasy romance is expected to overtake Stand By Me Doraemon in the next few days to become the biggest Japanese film ever in China.
Hacksaw Ridge opened in second place with $17.49m from its first four days. The Second World War drama directed by Mel Gibson failed to unseat Your Name for the weekly crown, but it topped the Japanese animation on Sunday.
Based on a popular web novel, local love comedy Suddenly Seventeen launched in third place with $11.07m from its three-day opening weekend. It is the debut feature of Zhang Mo, daughter of Chinese auteur Zhang Yimou, and stars Ni Ni, Wallace Huo and Wang Dalu.
Warner Bros' Fantastic Beasts And Where To Find Themdropped to fourth with $10.32m for $85.08m after 17 days, ahead of Fox's Miss Peregrine's Home For Peculiar Children on $6.07m for $16.46m after 10 days.
Warner Bros' biopic drama Sully, directed by Clint Eastwood and starring Tom Hanks, opened in sixth with $5.67m from its first three days.
The rest of the weekly chart was filled by holdovers: Derek Yee's Sword Master on $5.54m for $13.42m after 10 days; Feng Xiaogang's I Am Not Madame Bovary on $5.44m for a 24-day total of $62.64; Disney animation Moana on $4.39m for $26.78m after 17 days; and local action comedy Super Express on $3.89m for $8.20m after 10 days.
Last week's box office dropped by approximately 15%. Nevertheless, the box office from the first 11 days of December has grown by more than 60% compared to the same period last year. The month of December should reverse the negative growth from the last three months.
The highly-anticipated The Great Wall will open on Dec 16, along with The Wasted Times and Blood Of Youth.