Dir: Raul Ruiz. Chile-France. 2012. 110mins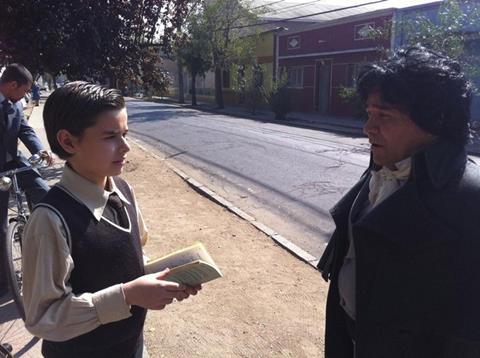 Raul Ruiz's epic multi-strander Mysteries Of Lisbon may have been the last major offering from the Chilean-born globetrotting experimentalist, but Night Across The Street (La Noche de Enfrente) is the farewell film proper from Ruiz, who died last year. It's a whimsical and tender leavetaking note to the world, to cinema and to his native Chile, from which he was exiled for many years.
Playful and wildly imaginative to the last, this film shows Ruiz going out dreaming, and laughing.
Ruiz, who completed Mysteries despite an illness that required major surgery, was clearly preoccupied with his mortality while making La Noche, and the film is very much a last testament - yet one of the jolliest hearted valedictories that cinema has ever produced. Unlike Ruiz's recent, relatively mainstream work, Night Across The Street is a fluid essay in film as poetry, like his French-made work of the early 80s (e.g. City of Pirates).
Dream-like à la Cocteau, and altogether free-associative, it is likeliest to appeal to initiates, who will be dewy-eyed over it. Crammed with pleasures as it is, the film is also over-extended, and judicious trimming by editor Valeria Sarmiento (Ruiz's wife and long-time associate), especially in a slow final stretch, could bring tighter focus. Commercial prospects are slim, but that was never Ruiz's prime concern, even at his most approachable.
Set in contemporary Chile, the film is about an elderly office worker, Don Celso (Hernandez); as retirement looms, he awaits the mysterious stranger who, he's convinced, is coming to kill him. Don Celso is first encountered attending a poetry class (where adult pupils all sit eyes closed), held by Jean Giono (Christian Vadim), who may or may not be the French novelist of the same name (whose Les Ames Fortes Ruiz adapted in 2001).
The film cuts between the present and Don Celso's childhood: we see him as a solemn, precociously philosophical boy prone to chatting with Long John Silver and Ludwig von Beethoven, the latter accompanying him to a memorable film screening. Present-day Chile, however, isn't evoked in a remotely realistic manner, much of the action taking place in a hotel where characters oscillate between life and death: in one of the film's drollest twists, the dead (victims of a sudden massacre) hold a séance to contact the living.
Many of the film's ideas are motivated by verbal conceits, such as those debated over by Giono and Don Celso at the start. One particularly eloquent image is that of time solidified in little marbles; another is the idea of words as "butterflies of uncertainty", which certainly applies to Ruiz's films too. But while this is a very literary film, it's also rapturously visual, showing Ruiz's love of trompe l'oeil at its most unashamedly tricksy, with plentiful use of CGI backdrops.
The camerawork is as lithe as ever, and Inti Briones's photography is gloriously coloured, especially in the use of warm rose hues and of bronze shades for the seascapes. The many-shaded dialogue takes in elliptical musings, surreal wisecracks and tart in-jokes about Chile. Playful and wildly imaginative to the last, this film shows Ruiz going out dreaming, and laughing.
Production companies: Margo Films, Suricato
Sales: Margo Films, fmargolin@yahoo.com
Producer: François Margolin
Screenplay: Raul Ruiz, based on stories by Hernán del Solar
Cinematography: Inti Briones
Production designer: Raul Ruiz
Editor: Valeria Sarmiento
Music: Jorge Arriagada
Main cast: Christian Vadim, Sergio Hernandez, Valentina Vargas, Chamila Rodriguez