Noel Clarke, the British actor, writer, producer and director whose films include Kidulthood and 4,3,2,1, spoke to students at the National Film and Television School about his latest film – sci-fi thriller The Anomaly.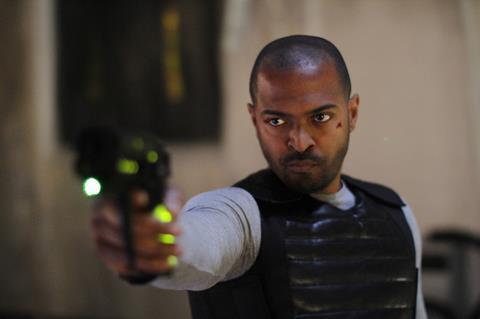 Clarke said his previous films had prepared him well for the challenge of the higher budgets and production values of his first sci-fi film.
"When you're forced to make low budget films, you learn where to put the money. So when I got to The Anomaly, I knew you have to go for the splash moments. It's about how and where you put them, not jamming special-effects into every shot just because you can."
He added that this also played into how seriously he took the marketing of The Anomaly, advising young directors in particular that, "…it's important to stick to your artistic vision, of course, but your films have to make some money. If your films don't do business, you're not going to make that many."
Clarke, who starred in hit BBC series Doctor Who said he wanted to try his hand at making a genre film in order to plug a gap in the market: "We don't get a lot of genre film in the UK, which I think is a shame. There's a core of British people who really want to see genre films that reflect this country, not just the US."
He added that this had pushed him to try to make interesting choices around the way The Anomaly would be shot, especially the fight scenes, which he made the unusual choice to keep as close to one-shot as possible. "I got to a point where I felt that, in a real fight you can't cut away so I felt like – keep going. Stylistically, it had to be free flowing, all in camera.
Clarke started out as an actor and won the Laurence Olivier Award in 2003 for 'Most Promising Newcomer' for his performance in the play Where Do We Live at the Royal Court Theatre.
But he later turned his hand to screenwriting and directing. Clarke wrote and directed the gritty indie films Kidulthood (2005) and Adulthood (2008) - both shot by NFTS head of cinematography Brian Tufano, which received critical acclaim. In 2009, Clarke was awarded a BAFTA Orange Rising Star Award.
Speaking at the NFTS Q&A, he advised all young film makers to try their hands at a range of skills across the creative field. "If you're a director, take a cinematography course. If you're a writer, take an acting course. If you're an actor, try writing for a bit."
He explained that he'd started writing as an actor after some frustration over the quality of the scripts he was auditioning for. "My mum was always like, 'Don't talk about somebody's job unless you've tried it.'
"So I decided to try writing – I didn't want to just sit and moan about the scripts I was getting, I wanted to try to do better."
Crediting his mother as the foundation on which he built a strong respect for women in his work, Clarke said: "I was raised by a single mother and in terms of the base person that I am, I have a lot of respect for women. And I felt like there weren't any films about women. I feel like there need to be films about girls – with girl heroes who don't need rescuing and don't need men. So that's why I wrote 4,3,2,1."
Of his other directing style, he addressed the suggestion that he's one of the most organised directors in the business.
"I believe in preparation. Preparation is key. It doesn't mean you won't make mistakes, but you'll make fewer and you'll probably have more time to fix things when you do mess up."