Dir: Jaume Collet-Serra. US-France. 2014. 106mins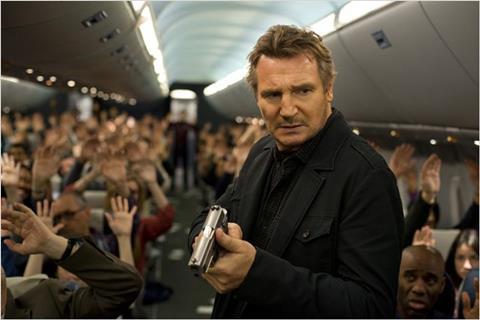 Initially, Non-Stop promises to be a fun, slick paranoid thriller, but eventually it becomes clear that there's not enough ingenuity to go along with all the ludicrousness. Reuniting with his Unknown director Jaume Collet-Serra, Liam Neeson gives a reliably grizzled and haunted performance, but despite a pretty impressive cast for what's essentially a disposable B-movie, Non-Stop makes more noise than sense.
On the action front, Non-Stop has a few diverting moments, including a claustrophobic hand-to-hand fight in an airplane bathroom.
Opening February 28 in the States and around Europe, Non-Stop hopes to have more staying power than other recent underperforming action movies such as RoboCop and Three Days To Kill. Neeson has had his best success with the Taken films, but his involvement in this high-concept vehicle — basically, it's Die Hard on a plane — could produce sturdy box office. Still, Non-Stop looks to face some major competition when 300: Rise Of An Empire arrives in a few weeks. Ancillaries should be strong, although it may not be a popular in-flight choice.
Neeson plays Bill Marks, an alcoholic former New York cop who is now a US air marshal, assigned to be undercover on flights to ensure that no terrorist activities occur. Grappling with his troubled, mysterious past, Marks gets on a plane headed to London, but somewhere over the Atlantic Ocean he receives text messages from an unidentified source claiming that a passenger will be killed every 20 minutes unless he or she receives $150 million. At first, Marks is suspicious of the threat's veracity, but after his fellow air marshal admits to being part of a conspiracy and tries to kill him, Marks takes matters into his own hands, determined to locate the person on board sending the texts.
Those familiar with Neeson's recent transformation into an avenging-angel action hero will notice certain similarities between Marks and the actor's other recent rugged characters. As he did in the Taken films and The Grey, Neeson here plays a man who's a formidable presence, despite the fact that he's beset with personal demons. (Not only will Marks' past failings be revealed over the course of Non-Stop, they'll prove to be weirdly pertinent to the present challenges he faces on the plane.)
At 61, Neeson has a casual, muscular authority, giving the movie plenty of gravitas even when he shows a lighter touch during Marks' flirty encounters with an independent-minded passenger (Julianne Moore). Neeson doesn't wink at the audience, taking the character's inner struggle as seriously as the whodunit plot machinations, which requires Marks' suspicions to ping-pong between different possible culprits.
The screenplay, credited to three writers, plays out a bit like a Ten Little Indians in the sky, with Marks constantly wondering who's behind the texts and how he can keep any other passengers from dying through unexplained circumstances. (Each victim appears to suffer an intense internal episode before expiring.) Adding to the suspense, Marks learns that the bank account where the money is to be directed is in his name, leading the authorities to believe that he's behind this hijacking.
This leads to potentially intriguing drama: The longer Marks tries to find the mastermind, the more the other passengers (who are watching the news on the plane's in-flight entertainment service) begin to distrust him, inspiring them to secretly scheme how they can overwhelm him. But this heightened anxiety soon tips over into hysterical performances from supporting actors and questionable plot twists. Even worse, for all of the movie's supposed life-or-death stakes, Non-Stop elicits unfortunate snickers from the sight of Marks trying to desperately hide dead bodies around the plane so that he doesn't alarm the oblivious passengers.
Moore brings a weathered charm to her role as one of Marks' only confidants on the flight, but the problem is that, eventually, everybody around Marks has to go from seeming trustworthy to fishy so that he (and the audience) never knows whom the villain is. This becomes rather tedious as we wait for the culprit or culprits to be unmasked, but that inevitable reveal frustrates because it's not well-handled — not to mention the fact that the bad guys' motivations come across as incredibly manipulative, drawing on recent current events in a tacky way.
Still, the plane's collection of generic suspects is enlivened a little by the performances of Michelle Dockery, Scoot McNairy, Omar Metwally and Corey Stoll. (As a young flight attendant, Lupita Nyong'o is little more than a bit player, particularly disappointing after seeing her searing, Oscar-nominated turn in 12 Years A Slave.) We don't enjoy them as characters, though, because we're mostly trying to figure out which one of them is behind this in-flight mayhem.
On the action front, Non-Stop has a few diverting moments, including a claustrophobic hand-to-hand fight in an airplane bathroom. But those scenes are outnumbered by ones that are hopelessly cheesy (Marks actually sails through the air in slow-motion, gun drawn) or completely preposterous (pilots melodramatically scream at their controls as they try to crash-land a badly damaged plane). Non-Stop fancies itself a high-tech, resonant thriller about a man seeking redemption, never once realizing it's in a fatal nosedive.
Production companies: Studiocanal, Silver Pictures, Anton Capital Entertainment S.C.A., Lovefilm
US distribution: Universal Pictures, www.universalpictures.com
International sales: StudioCanal, www.studiocanal.com
Producers: Joel Silver, Andrew Rona, Alex Heineman
Executive producers: Steve Richards, Ron Halpern, Olivier Courson, Herbert W. Gains, Jeff Wadlow
Screenplay: John W. Richardson & Chris Roach and Ryan Engle, story by John W. Richardson & Chris Roach
Cinematography: Flavio Labiano
Production design: Alexander Hammond
Editor: Jim May
Music: John Ottman
Website: www.nonstopthefilm.com
Main Cast: Liam Neeson, Julianne Moore, Scoot McNairy, Michelle Dockery, Nate Parker, Corey Stoll, Lupita Nyong'o, Omar Metwally, Jason Butler Harner, Linus Roache, Shea Whigham, Anson Mount