Dir/scr: Martin Radich. UK. 2014. 87mins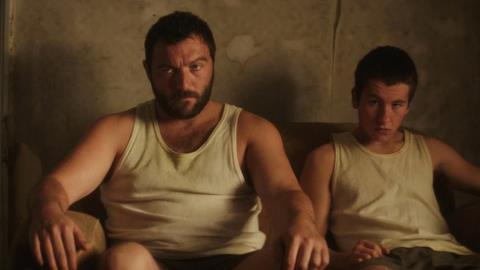 An oblique, striking, dreamlike and at times impenetrable drama, Martin Radich's nihilistic allegory aims to haunt and perhaps confuse as it weaves its story about a reclusive father and son whose desperately close relationship is threatened when his dark past starts to catch up with him. The film had its world premiere at the Rotterdam International Film Festival.
Menochet's glowering intensity – he also has a few great monologues – should intrigue.
It is given brooding intensity thanks to the striking lead performance by Denis Menochet (Inglourious Basterds) as the haunted and tough-but-tender father and Barry Keoghan (who featured in '71) as his loyal son. Director Martin Radich (who made dark 2008 drama Crack Willow) uses various shooting techniques – ranging from using anamorphic lenses through to a children's toy camera – to keep the viewer on edge, creating an ambiguous environment that has the feel of a post-apocalyptic world despite being rooted in present times.
Part of the atmosphere is also consciously due to the backdrop of rural Norfolk (a region of East England), which mixes pastoral splendour of fens, fields and waterways with run-down, almost desolate, buildings where his characters – all from the fringes of society – live and barely interact.
Quite if the man is good or bad is never really revealed (he is a tough military type who has raised his son alone, with the boy keen to mirror his father in every way he can) but then ambiguity runs its course throughout the film. The boy is being observed by a mysterious – and rather angry - elderly couple who want revenge on the man. The man himself has dark intentions for a group of foreign 'revolutionaries' who live in a piece of wasteland nearby, but when his son befriends a girl (Goda Letkauskaite) who lives with them the man finds his life changing as his son realises there is more to life than his father's ritualistic ways.
The intense relationship-based drama that dominates the majority of the film spirals towards a violent climax as both boy and father are forced to make decisions that pull them away from their insular and reclusive existence.
It is a hard film for formal distribution, but Menochet's glowering intensity – he also has a few great monologues – should intrigue, with further festival appearances highly likely. The visual style can be grating at times – though it is designed to keep viewers on edge – while the soundtrack (by Brooklyn-based composer JG Thirlwell, whose body of work under numerous different identities spans over 25 years and includes collaborations with artists such as Nick Cave, Marc Almond, The The, Karen O and Spike Jonze) complements perfectly at times, with powerful use of drums towards the climax heightening the atmosphere.
Production companies: Scottish Documentary Institute, Crybaby, Creative England, BFI, BBC Films
Sales contact: Scottish Documentary Institute, www.scottishdocinstitute.com
Producers: Finlay Pretsell, Rachel Dargavel
Cinematography: Tim Sidell
Editor: Mark Trend
Production designer: Beck Rainford
Music: JG Thirlwell
Website: www.norfolkthefilm.com
Main cast: Denis Menochet, Barry Keoghan, Goda Letkauskaite, Eileen Davies, Sean Buckley, Rupert Procter