Top brass at the 12th Zurich Film Festival have given the Golden Eye for international feature film to The Happiest Day In The Life Of Olli Maki, the debut feature by Juho Kuosmanen.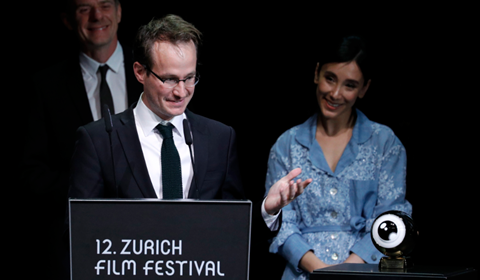 The film, which previously won Cannes' Un Certain Regard prize and is Finland's Oscar submission, is based on the true story of a Finnish boxer who is more concerned with his new girlfriend than winning a championship bout.
The Golden Eye in Zurich comes with a $25,700 (25,000 CHF) cash prize.
Kuosmanen told Screen that awards are "always nice" and added that he was especially delighted by the audience reception.
"It feels like the film is communicating with different people with different backgrounds. The audience feedback has been very good [in Zurich] and for me it's important that the film is understood and people are communicating with it."
The jury, which comprised Lone Scherfig, David Farr, Sibel Kekilli and Graham Broadbent, also gave three special mentions to: Lady Macbeth by William Oldroyd (UK), Personal Affairs by Maha Haj (Israel) and Two Lottery Tickets by Paul Negoescu (Romania).
The other top winners were Mrs B, A North Korean Woman by Jero Yun from France (international documentary film) and Hidden Reserves by Valentin Hitz from Austria (the competition for Swiss, German and Austrian films).
The Audience Award went to Peruvian film When Two Worlds Collide by Heidi Brandenburg and Mathew Orzel.
The Kids Jury Award for Best Children's Film went to Claude Barras' Swiss Oscar submission My Life As A Courgette. The Audience Award for Best Children's Film went to Code M by Dennis Bots (Netherlands).
Other awards were Europe, She Loves by Jan Gassman (Emerging Swiss Talent Award), Lady Macbeth (Critics' Choice Award), and Anna Schwingenschuh's Cold Turkey For Emergencies (best treatment).
Zurich's elegant closing night ceremony included Daniel Radcliffe (at the festival with Imperium and Swiss Army Man) presenting the audience award, and French director Olivier Assayas receiving the festival's A Tribute To… award.
The festival's 12th edition saw the number of viewers rise by 6.5% to a new record of 90,500. There wee 172 films (up from 2015's 161) and 607 invited guests (up from 503).
Co-Directors Nadja Schildknecht and Karl Spoerri said: "The extensive and ever-increasing viewer interest, as well as the compliments we have received from our international guests, confirm that we are on the right track with our festival strategy…Our blend of emerging cinema in the competition categories and the screening of the year's biggest film titles as Gala premieres is well received by cinemagoers and industry guests alike. This fact confirms that we are also making the right choices with regard to our programme strategy."