The Irish director talks about making his second feature, Pelican Blood, which had its world premiere at the Edinburgh International Film Festival last week.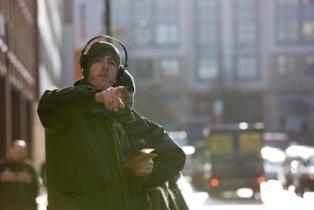 Pelican Blood is Karl Golden's second feature following the 2003 drama Honeymooners. Based on the novel by Chris Freddi, the film centres around the obsessive relationship between bird watcher Nikko (Harry Treadaway) and environmental campaigner Stevie (Emma Booth), who meet via a suicide website, and descend into a world of destructiveness and self harm. Produced by Ecosse Films, the film was funded by regional agency EM Media, Magna Films, P&C Arcade Film Fund, Molinare and Icon, who is handling international sales. It shot in Nottingham, the Peak District and London.
What attracted you to the project?
When I got the script [from Ecosse Films] I thought, are things really that bad for me that I'm getting a script about bird watching. What happened to Rush Hour 2? But it just blew me away, it's very intimate, there is a very intimate relationship at the heart of it.
I liked how uncompromising the story was and how reckless the characters could be sometimes. And I'm fascinated by relationships, both in my own life and creatively. It wasn't a logical love story, or a clean and perfect love story that was tailored to a glamorous version of love. It felt real to me. It's a dark and challenging love story, but I hope that it is also balanced with a genuine sense of romance. And ultimately, I wanted it to be an uplifting film at the end, a film about people surviving difficult circumstances.
The bird watching becomes part of the emotional texture of the film, in a way he falls in love with someone who is herself a very graceful exotic bird but who is just out of reach and that becomes the heart beat of the story.
What kind of look were you trying to achieve with the film?
We shot in October/November [2009] because we wanted to get that turn of mood, autumn into winter, and we got the yellows becoming browns. We wanted a film that is very beautiful but has a whiff of melancholy to it as well. We shot at 16mm, because it just captures the richness of landscape. We had a wonderful director of photography [Darren Tiernan] who managed to make things look gorgeous without overwhelming the drama.
The film is set in London, but you shot much of the film in the East Midlands (largely Nottingham), due to the funding you received from EM Media. Was that a challenge?
We were able to shoot a lot of our interiors outside London and Nottingham is a very elegant city, so we were able to shoot exteriors as well. We never felt like we were compromising ourselves and I defy anyone to tell me they spot the difference. We also shot in the surrounding areas, which are beautiful, like the Peak District. It was a fantastic place to film, the crews are great, and it has a really youthful energy to it. And EM Media is an example of where the British film industry is working. They are a really confident funding body. But it was a difficult film to finance, because of the subject matter.
Your central characters are played by Harry Treadaway and Emma Booth. How did you go about casting them?
I really liked Harry, and I knew his work. He was very easy for me to commit to, because has a genuine screen presence. You can't train that, you either have it or you don't. He has this charisma and cool swagger, he is a very contemporary actor, which was what I wanted, but he also has a vulnerability, and the character needed that.
With Emma, we looked at a lot of very wonderful actresses in London, because she was written as a London girl, but I saw this little Australian film a few years ago, Clubland, and I don't know why but I always remembered her performance. Two years later I called her agent up and she sent through this great audition tape which was really chaotic, and the moment I saw it felt right before she even spoke.
If you had to compare Pelican Blood to another film, what would it be?
It's hard to say, but for example, one of the movies when I was growing up that grabbed my mind, was Betty Blue. It is a film which has a very destructive relationship at the heart of it, although their circumstances are different. I didn't understand it but I loved the intensity of it, it seemed so utterly un like anything I'd ever seen, I was sitting in suburbia thinking, do people live lives like this? But they were they French, so of course. So we probably have less sex and less food scenes, but that would be the film, even though it wasn't consciously there.
You made several short films before your first feature Honeymooners in 2003. Did you find it difficult to make the jump from shorts to features?
When you go to make a feature, it's almost like you hit a glass ceiling and they say, just do another short. We are famous in Ireland for our short film schemes, there is one for every day as the week, and I kind of did them all. We are not as famous for developing and supporting young film-makers because there are very limited resources. So that move from shorts to features is hard.
I'm doing a new film in August, it is a film called Rave, with Momentum, it is a project that they developed with Ian Brady and Stephen Salter at Foundation Films, and it that takes place in the world of the early days of rave, just before rave warehouses become illegal, it's the journey of two kids who start up their own rave club, I'm very excited about it. It's commercial but interesting.
All my films so far I have made are about young, cool people. I don't feel young any more and I certainly don't feel cool. So I hope I might be able to make some films about older people at some stage. I've got lots of material for people aged over 25. The thought of having even one middle aged character is exciting!