The world premiere of cult web series creators 5-Second Films' first feature Dude Bro Party Massacre III will screen at the upcoming festival as top brass introduced the Zeitgeist and Nightfall sections.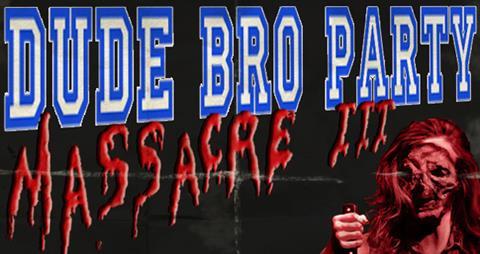 The festival, set to run from June 10-18, announced programming in both strands as well as the second edition of LA Muse strand.
Associate director of programming and curated content Roya Rastegar said Zeitgeist comprised films that speak to pivotal junctures in the lives of young people.
Zeitgeist programme encompasses six world premieres of US films: Band Of Robbers by Aaron Nee and Adam Nee; A Girl Like Grace by Ty Hodges; In The Treetops by Matthew Brown; Manifest Destiny by Michael Dwyer and Kaitlin McLaughlin; Stealing Cars by Bradley Kaplan; and What Lola Wants by Rupert Glasson.
Describing Nightfall, senior programmer Jennifer Cochis said the films were designed to make audiences squirm.
Films premiering for the first time in the US are nominated for the Nightfall Award. All films are from the US and world premieres unless indicated otherwise.
The Nightfall films are: Caught by Maggie Kiley; The Confines by Eytan Rockaway; Crumbs (Spain-Ethiopia-Finland, North American premiere) by Miguel Llansó; Crush The Skull by Viet Nguyen; Dude Bro Party Massacre III (pictured) by Tomm Jacobsen, Michael Rousselet and Jon Salmon; Plan Sexenal (Mexico, North American premiere) by Santiago Cendejas; Ratter (LA premiere) by Branden Kramer; and Shut In by Adam Schindler.
Back for its second year, LA Muse is a competitive section of curated, independent films that are "quintessentially Los Angeles". Every entry is a world premiere.
The LA Muse selection comprises: Aram, Aram by Christopher Chambers; A Beautiful Now by Daniela Amavia; Can You Dig This by Delila Vallot; Day Out Of Days by Zoe R Cassavetes; The Drew: No Excuse, Just Produce by Baron Davis and Chad Gordon; The Escort by Will Slocombe; Flock Of Dudes by Bob Castrone; French Dirty by Wade Allain-Marcus and Jesse Allain-Marcus; No Más Bebés Por Vida by Renee Tajima-Peña; and Weepah Way For Now by Stephen Ringer.
"Under the leadership of Roya Rastegar and Jennifer Cochis, the programmers have assembled a slate of films that embody Film Independent's mission of diversity, innovation and uniqueness of vision with a special emphasis on world premieres, first-time directors and, of course, films inspired by Los Angeles," said Film Independent curator Elvis Mitchell.
The full festival line-up will be announced on May 5.