New work featuring Murray Abraham, Kate Mara and Amber Tamblyn, Rufus Wainwright, Katie Holmes and Zachary Quinto will screen at the Palm Springs International ShortFest & Short Film Market from June 16-22.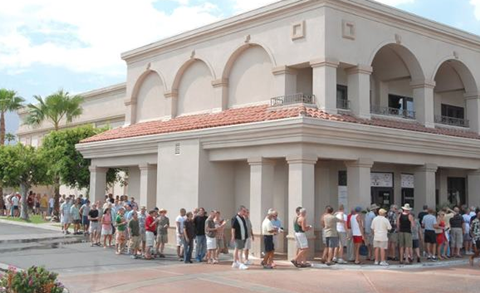 Jonathan Demme and Matt Groening appear in the documentary I Thought I Told You To Shut Up!, Kristen Wiig and Jimmy Kimmel in the world premiere of Miss Famous, John Cusack in the world premiere of Red Rider and Bryce Dallas Howard directing and starring in solemates.
Richard E Grant narrates Teeth and Jason Patric, Danny Trejo, Rose McGowan and Marisa Coughlan appear in the world premiere of The Weight Of Blood & Bones and selections include Twin Visions by Louise Salter and Gavin Bowden and H Positive by Glenn Paton.
All in the all the festival will present 330 films including 77 world premieres, 65 North American premieres and 19 US premieres across 54 programmes. More than $115,000 in prizes are on offer.
More than 3,000 of the festival submissions are available in the Film Market for industry attendees to view.
"The overall quality of the films submitted to us this year was staggering, both in terms of sophisticated filmmaking technique and the diversity of the subject matter and storytelling styles," said festival director Darryl Macdonald.
"The difficult part for us was narrowing the 3,500 submissions down to just 330 titles for the final festival line-up, given the wealth of exceptional work we watched.

"It's a testament to the benefits of contemporary film schools and increased access to low-cost technological tools that so many emerging filmmakers with a gift for storytelling are now able to parlay those gifts into accomplished, entertaining short films. It makes for one wonderful week of film watching."
The complete line-up will appear here on June 7 with the online box office launch on June 9.