Dir/scr: Marcus Markou. UK. 2013. 105mins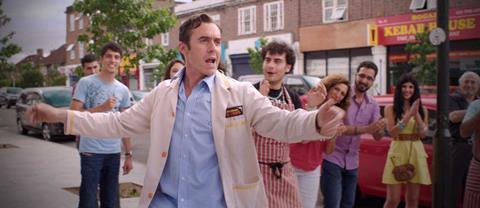 A genial family-orientated comedy-drama, British film Papadopoulous & Sons may never strive for anything more than safe and genially enjoyable, but it offers Stephen Dillane an appealing, warm and rounded leading role and is never less that engaging.
While there are no great dramatic or comedic highs in Papadopoulous & Sons, the lead role is charmingly played by Stephen Dillane andthe film gently enjoyable to watch.
The film, which premiered at the Palm Springs Film Festival and receives a UK release, is pretty straightforward fare, but while entirely predictable it never tries to be overly clever or cynical, and could well strike a chord with mainstream audiences and is an easy sell into daytime broadcasters.
Dillane – who stars in Game Of Thrones, played opposite Nicole Kidman in The Hours and had a key role in Kathryn Bigelow's Zero Dark Thirty – stars as self-made businessman Harry Papadopoulos, who immigrated to the UK as a child, worked in the family fish and chip shop business and eventually hit it big with a food manufacturing and distribution company.
When his ambitious plans to build a shopping complex fall apart he finds himself deeply in debt and his assets seized. Forced to sell off his opulent house – much to the disgust of his three young children – his only option is to try and sell the dormant and long-forgotten Three Brothers Fish & Chip Shop. The only problem is that he co-owns it with his brother Spiros (Georges Corraface), to whom he hasn't spoken in years.
Spiros (played with zeal and engaging over-the-top charm by Corraface), however, insists that the brothers (as well as Harry's children) move back into the shop and re-open the business. Ostensibly as a way of making more money, but unsurprisingly it turns into a family bonding session that follows familiar cues and routes.
The scenes of them all coming together and re-decorating the old shop are nicely staged, with the three actors playing the children - Georgia Groome, Frank Dillane (son of Stephen)and Thomas Underhill – appealing, and well-known character actress Selina Cadell chipping in with a nice turn as the family's no-nonsense long-term housekeeper. A romance between Harry and accountant-with-a-conscience Sophie (Cosima Shaw) rarely convinces, but it is nicely and gently staged.
A climactic Zorba The Greek style dance sequence feels way too obvious – though at the same time reassuringly familiar – and while there are no great dramatic or comedic highs in Papadopoulous & Sons, the lead role is charmingly played by Stephen Dillane and the film gently enjoyable to watch.
Production company: Double M Films
Sales contact: 7and7, www.7and7.co.uk
Producer: Sara Butler
Executive producers: Marcus Markou, Andrew Markou
Cinematography: James Friend
Editor: Sebastian Morrison
Production designers: Martin Christopher, Adam A. Makin
Music: Stephen Warbeck
Main cast: Stephen Dillane, Georges Corraface, Georgia Groome, Selina Cadell, Ed Stoppard, Cosima Shaw, Frank Dillane