Dir: Ulrich Seidl. Austria-Germany-France, 2012. 113mins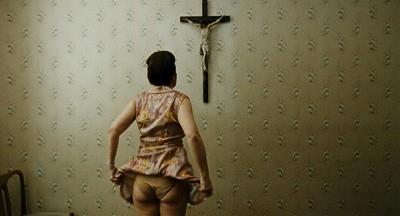 Ulrich Seidl's search for a perfect paradise on earth reaches its second location, and if the first one, Paradise: Love, ended in bitter disappointment, this one, dedicated to 'Faith', turns out even worse. Though perhaps 'Fanatic Faith' would fit better as the title of this piece as Seidl's grimly unflinching, sardonic look at Anna Maria (Maria Hofstatter), a radiology nurse on vacation, who takes a statue of the Virgin Mary for walks around the countryside, may be as unsettling and as annoying, depending on the eye of the beholder, as all previous Seidl films have been.
Maria Hofstatter, whose association with Seidl dates back ten years, completely melts into the role, providing the backbone for the entire piece.
Anna Marie is the sister of the Paradise: Love protagonist, glimpsed in early scenes of that film, but instead of trying to buy love for money on the beaches of Kenya, she finds her salvation in the bosom of Jesus, her adoration for him being not only spiritual, but as Seidl shows in detail, carnal as well. First she disrobes in front of the Cross for an energetically administered session of self-flagellation and later by literally taking the Cross, with the Savior on it, to bed with her.
All through the first part of the film, as the camera points out the ridiculousness of a perfectly organized lower middle class Austrian household, shows Anne Marie practice her missionary routines, the tone is that of a pitiless sarcastic black comedy, but it changes into even darker tones once Nabil (Nabil Saleh), Anna Marie's Muslim husband, who had been away for two years, comes back home.
A cripple in a wheelchair, the result of an earlier accident, he had stayed with his family but now he is back to demand his rights. Anna Marie, seeing this as yet another test she has to endure for Jesus, takes him in, but the relationship soon deteriorates in a freakish version of War Of The Roses, with him tearing apart the symbols of Christianity and her depriving him of his only means of locomotion, the wheelchair.
Seidl's lack of compassion through all this turns Anna Marie into a kind of sad clown (is that the reason Seidl dedicated the film to Max Linder?). Two failed encounters with unrepentant potential converts, very different from each other, followed by fierce combat with Nabil at home, finally break down Anne Marie's staunch trust in her own brand of Faith, allowing her vulnerability to come out from behind all the chants and rituals rites she has been indulging in.
Using his usual method of minimal camera moves, precisely framed and lit images (the cinematography team of Wolfgang Thaler and Ed Lachman tandem work their own wonders), no music, actors who are given the basic layout of each scene but develop it themselves as they shoot it and by insisting to keep a documentary point of view on the fictitious scenes which he instigates, Seidl's obsessive films have never been easy to watch, though this time, it seems to move ahead more rapidly, thanks to fluid editing.
Maria Hofstatter, whose association with Seidl dates back ten years, completely melts into the role, providing the backbone for the entire piece, but the same could be said, to a lesser extent because of their smaller parts, of Nabil Saleh (who is not a paraplegic but is very convincing); of Rene Rupnik's satirical turn as an overage, overweight and underdressed orphan, or Natalija Baranova's drunken, unapologetic Russian prostitute.
Needless to say, none of them finds Paradise here, but it may be useful to point out that just like the perverted image of Love in the first chapter of this trilogy, Faith offers much deeper and more complex aspects that Seidl's satire doesn't even begin to explore here. And there is no bet that, with Seidl's final film in the trilogy to be unveiled in Berlin 2013 and taking place in a Health Club, things will not end on a more cheerful note.
Production companies: Ulrich Seidl Film Produktion GmbH
International Sales: Coproduction Office, www.coproductionoffice.eu
Producer: Ulrich Seidl
Screenplay: Ulrich Seidl, Veronika Franz
Cinematography: Wolfgang Thaler, Ed Lachman
Editor: Christof Schertenleib
Production designer: Reante Martin, Andreas Donhauser
Main cast: Marie Hofstatter, Nabil Saleh, Natalija Baranova, Rene Rupnik, Dieter & Trude Masur