Dir: Henry Joost and Ariel Schulman. US. 2011. 84mins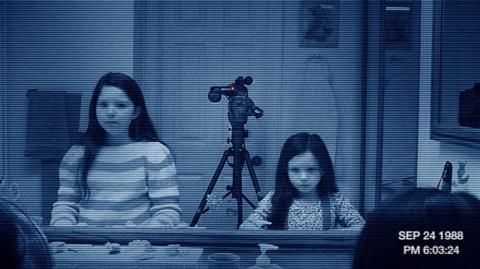 Despite its familiar found-footage structure, Paranormal Activity 3 proves to be every bit as effective as the previous instalments, providing a consistent level of tension that's aided by some solid performances and a few fresh surprises. This prequel, which fleshes out the backstory of the two luckless sisters from the original films, deserves much credit for the amount of scares it generates even though the audience will be well aware of the franchise's tricks by this point.
Paranormal Activity 3 stays true to the franchise's less-is-more mandate, emphasising bumps in the night rather than gratuitous gore.
Opening October 21 in the U.S. and throughout much of the world, this Paramount offering will hope to again this year be Halloween's main horror attraction. (As opposed to previous years, there's no Saw serving as competition.) Just like with the previous films, 3 doesn't have stars, but it has a very recognisable brand name, which should guarantee good returns for at least two weekends.
Tracing back to 1988, Paranormal Activity 3 shows us sisters Katie and Kristi when they were little girls, played respectively by Chloe Csengery and Jessica Tyler Brown. Their mother Julie (Lauren Bittner) is very happy with her live-in boyfriend Dennis (Christopher Smith), but soon younger sister Kristi's imaginary friend starts to seem very real, haunting the house at night and putting the family's lives in danger.
Paranormal Activity 3 was directed by Henry Joost and Ariel Schulman, the filmmakers behind the documentary Catfish, and with this feature effort they show themselves more than capable of generating suspense and eliciting empathetic performances. This is even more impressive considering that two of the film's central characters are children, but the naturalness of the young stars – who at different times have to seem possessed or utterly terrified – impresses.
Ever since writer-director Oren Peli's 2009 original, one of the guiding principles of the Paranormal Activity films has been their drawn-out dread that occurs during the nights when the characters' cameras capture the invisible demon plaguing them. While 3 pushes credibility by the amount of times that Dennis (who is a wedding videographer) brings a camera around with him during the day, the night footage does its usual trick of teasing the audience with static shots of quiet, dark rooms in which the entire frame is filled with the frightening possibility that something could emerge at any moment.
This reliable terror is supplemented by a rather brilliant addition for the new film, which finds Dennis installing a video camera on top of an oscillating base in the living room. This creates a nerve-wracking panning back-and-forth shot that the filmmakers use to superb effect, slowly bringing upsetting images in and out of the frame that hint at greater frights just out of view.
Although the new film ups the amount of outright shocks and scares, Paranormal Activity 3 stays true to the franchise's less-is-more mandate, emphasising bumps in the night rather than gratuitous gore. And the film builds nicely to a sustained finale that's one of the best sequences in the entire trilogy. While other series try to outdo themselves with each new instalment, Paranormal Activity 3 feels equally smart and low-key as the ones that came before it. Don't be surprised if these movies continue to haunt us for some time to come.
Production companies: Blumhouse Productions, Solana Films, Room 101, Inc.
US distribution: Paramount, www.paramount.com
Producers: Jason Blum, Oren Peli, Steven Schneider
Executive producer: Akiva Goldsman
Screenplay: Christopher Landon, based on the film Paranormal Activity by Oren Peli
Cinematography: Magdalena Gorka
Production designer: Jennifer Spence
Editor: Gregory Plotkin
Website: www.paranormalmovie.com
Main cast: Lauren Bittner, Chris Smith, Chloe Csengery, Jessica Tyler Brown, Katie Featherston