Horror debuts on healthy $5.4m (£3.4m) as Johnny English slips to second; We Need To Talk About Kevin impresses for Artificial Eye.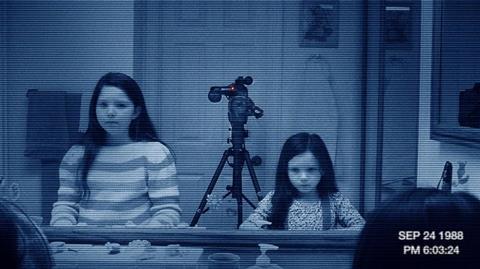 Paramount's Paranormal Activity 3 debuted on $5.4m (£3.4m) from 390 sites at an impressive average of $13,807 (£8,709) last weekend in the UK. $563,148 (£351,938) came from 390 previews.
The franchise is still a big draw for UK audiences, profiting from good reviews and canny marketing campaigns and will benefit from Halloween next weekend.
Paramount must be delighted with the continued (global) bankabilty of this low-budget series, but its star may be ever so slightly on the wane with audiences in the UK. The 2009 original opened on $5.6m (£3.5m) from 394 sites on its way to $15.8m (£9.9m), spending six weeks in the top 15 films, while last year's sequel debuted on $6.1m (£3.8m) from 389 sites and ended on $17.4m (£10.9m).
Universal's Johnny English Reborn made a healthy $3.3m (£2.1m) from a week-high 552 screens at an average of $5,894 (£3,718) in its third week. However, it too was not performing as well as the franchise original in its equivalent week. Johnny English grossed $3.7m (£2.3m) from 447 screens for $21.9m (£13.7m) cumulative in its third week at number one in 2003.
The sequel's running total stands at $20.4m (£12.9m).
Warner thriller Contagion debuted in third on $2.3m (£1.5m) from 398 screens, an underwhelming performance from a Steven Soderbergh film exuding star-power and decent reviews. In saying that, it was the director's best result since Ocean's 13 in 2007.
Real Steel and The Three Musketeers dropped to fifth and sixth respectively, while Lynne Ramsay's We Need To Talk About Kevin opened impressively for Artificial Eye on $780,488 (£492,297) from 111 screens for the week's second-best average of $7,095 (£4,475). $52,297 (£32,687) came from previews.
Fox comedy Monte Carlo was a palpable miss, managing only $523,981 (£327,469) from 330 screens at an average of $1,152 (£720).
In an intriguingly competitive Halloween weekend, this coming frame sees saturation releases for Paramount's Adventures Of Tintin: Secret Of The Unicorn, Sony's Anonymous, Disney's The Help, eOne's The Ides Of March as well as wide releases for Exile Films' Demons Never Die and Revolver's Sket.