For Matthew Rhys, it's a case of if the gumshoe fits, wear it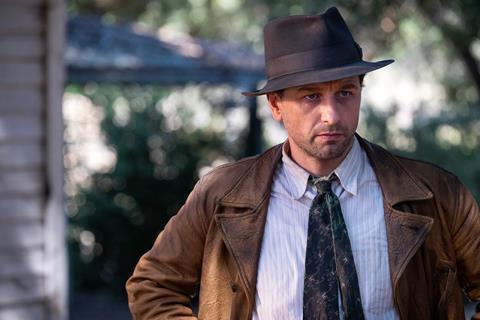 Los Angeles in the 1930s, now there's a time. A frontier town; the Great Depression; glamour and gangsters. But so few productions get it right on a sustained level. The art deco-meets-skid-row aesthetic underpins comic book superheroes, so perhaps it's no surprise that Robert Downey Jr has ended up tangled in Perry Mason territory (he was originally set to star in this lavish HBO drama series, but Matthew Rhys has taken over, with Team Downey producing).
It's so sumptuous, you could set it as a screensaver.
This retro revamp delivers everything that might have been hoped for on a visual level, spinning out a Lindbergh-like child abduction and murder into a dazzling 8x60 minute drama with a terrific performance from a Welsh actor as a down-at-heel gumshoe with PTSD issues. (Or, as it was known back then, shellshock.) Perry Mason has taken a selective approach to its source material for an "origins" show which draws on enough real-life drama (a radio evangelist; corrupt cops; a sadistic studio head) to make it more of a close cousin to James Ellroy than a distant relative of the 80-plus series of pulpy whodunits written by Erle Stanley Gardner in the thirties.
We know Perry Mason as a grandstanding defence attorney who prevents miscarriages of justice on behalf of his clients in a fairly rigorous format (the police jump to a conclusion; ad break; he proves them wrong). He was played in a 1950s TV show by Raymond Burr, but Mason has always been knocking around the moving image, from the Warner Brothers films of the 1930s through to one-off TV features. Series showrunners and writers Rolin Jones and Ron Fitzgerald have turned Mason into a hard-drinking shambolic Colombo-like war veteran and PI who occasionally works for defence attorney EB Jonathan (John Lithgow) at the outset of the show. One story spins its tentacles out over this whole first season; whether or not it's got strong enough legs is a moot point when Perry Mason is sousing the viewer in heady wafts of everything from Chinatown to The Changeling. It's so sumptuous, you could set it as a screensaver.
In HBO's iteration, Mason (Rhys, from The Americans) heads into the festive season of 1931/2 a couple of steps away from the breadline, eking out an existence on his parents' rundown dairy farm in the San Fernando Valley. (The property is adjacent to an airport, run by a tough and sexy avatrix played Veronica Falcon with whom he enthusiastically and drunkenly tangles. His other foil is Della Street, now working for the EB Jonathan and played as a proto feminist by Julia Rylance.)
Mason is a shady character with a dishonourable discharge who supplements his income by photographing Hollywood stars in flagrante and even tries to extort the studio for money. He has to fish around the mortuary for a tie to wear to an important meeting when Jonathan decides to take on a case involving a dead baby where both parents (Nate Corddry and Gayle Rankin) have been targeted by the corrupt LA police force.
This brings Mason into contact with the Radiant Assembly of God evangelical church run by Sister Alice (Tatiana Maslany) and her mother Birdy (Lily Taylor). Scenes shot at a recreated Angelus Temple (where the real-life radio evangelist Aimee Semple McPherson once preached) are simply jaw-dropping and probably run to Clint Eastwood's entire budget on The Changeling (even including Angelina Jolie). In another strand, which is loosely connected, the black LA cop Paul Drake, played with magnetic conviction by Chris Chalk, begins to realise how little his badge stands for.
Perry Mason is, ultimately, a set-up. Jones and Fitzgerald have dissected the comfort TV procedural and stripped it back to an origin which gives them plenty to work with. It certainly feels like anything they do next will be as interesting the labyrinthine plot of this first series. They clearly have the appetite. Everyone in this show gives it their best shot, both in front and behind of the camera where the feature film sensibilities of directors Timothy Van Patten (Boardwalk Empire) and Mustang's Deniz Gamze Ergüven are delectably apparent. And Matthew Rhys, from Cardiff, has pulled on Phillip Marlowe's gumshoes – or Humphrey Bogart's, if you want to think about The Big Sleep, and who doesn't? – to find they're an unexpected fit.
Production companies: HBO, Team Downey
International distribution: HBO (Sky Atlantic)
Screenplay, created by: Rolin Jones, Ron Fitzgerald
Executive producers: Amanda Burrell, Robert Downey Jr, Susan Downey, Rolin Jones, Ron Fitzgerald
Directors:Timothy Van Patten, Deniz Gamze Ergüven
Cinematography: Darran Tiernan (episodes 1-3)
Production design: John P Goldsmith
Music: Terence Blanchard
Main cast: Matthew Rhys, John Lithgow, Juliet Rylance, Tatiana Maslany, Chris Chalk, Lily Taylor, Timothy Van Patten, Matthew Rhys, Joseph Horachek