Nicolas Altmayer of Mandarin Cinema and Marc Jenny of Okko Productions talk about their co-production project, the swashbuckling Philibert, currently in post-production.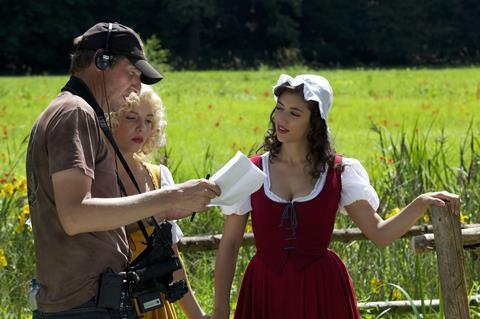 Synopsis: When an idealistic farm boy learns that his real father was murdered, he sets out to avenge the evil deed. Along the way, he encounters many dastardly villains and licentious temptresses.
Director: Sylvain Fusée
Writer: Jean-François Halin was nominated for a Cesar for Best Adapted Screenplay in 2007 for Mandarin Cinema's spy spoof OSS 117: Cairo, Nest Of Spies and also wrote the successful follow-on OSS 117: Lost In Rio. Karine Angeli was a co-writer on Mandarin's surfer comedy The Brice Man.
Producers: Eric Altmayer for Mandarin Cinema and Marc Jenny for Okko Productions
Cast: Jérémie Renier, Alexandre Astier, Manu Payet, Élodie Navarre
Financing: 80% Mandarin Cinema, with support from Gaumont, Canal Plus and M6 Films, 20% Okko Production, drawing on the Czech Republic's new Film Industry Support Programme.
Budget: $16.8m (€12m)
International Sales: Gaumont
Distribution: Gaumont (France)
Language: French
Locations: Barrandov Studios, in and around Prague
Shoot dates: July 19–September 11
Status: Post-production
Release date: April 6, 2011
Building on the success of their OSS 117 franchise, French producers Nicolas and Eric Altmayer are taking the tongue-in-cheek approach to the swashbuckler with Philibert. The production called for the kind of cliff-scaling, castle-storming scenes that were the stock and trade of Errol Flynn adventures like The Adventure Of Don Juan.
"My brother Eric and I were willing to apply this style of humor and comedy to another kind of film," Nicolas Altmayer tells Screen International. "French cinema has a strong tradition of epic and period movie, and we thought that it will be a great genre to parody."
Screenwriter Jean-François Halin introduced the producers to director Sylvain Fusée, who makes his theatrical debut with the project. "[Fusée] has a strong record in commercials and TV production. He has directed more than 15 years for one of Canal Plus' major comedy programmes, Groland," Altmayer says.
The producers could not find suitable locations in France, however, on in Luxembourg, where they also scouted. "We have many castles, but the main rooms will always be too dark and too small. The stairs will not be exactly what we wanted for the final duel," Altmayer says. "We realized that if we wanted to have the same kind of sets as in these Hollywood movies, the only solution was to shoot in the studio."
With a French shoot not in the budget, the Altmayers met in January of this year with Marc Jenny, a French producer whose Prague-based Okko Productions had previously serviced Legende Films' La Vie En Rose and Fox's Babylon A.D., among others.
Like other producers in Prague, Jenny was anxious for the European Commission to approve the Czech Republic's incentive measure, which offers a 20% rebate on production costs. When Brussels would move, however, was anyone's guess. Rather than wait for decision that might never come, the producers lined up a late-summer shoot.
Brussels' approval came two weeks before production was scheduled to begin.
"It was a bit of a poker game," Jenny says. "The [incentives program] web page wasn't even on line yet. But we were ready for the cultural test and we had all the documents for the first step, so we were the first production to register for the rebate."
Owing to uncertainty over the rebate, Barrandov Studios was largely empty when the production started in July. "We were alone there when we started the film. There were only some commercials, so we had all the facilities. We had three sets and the backlot," Altmayer said.
Jenny's Czech crew set about mimicking the production design of the swashbucklers of the 1930s and '40s. Barrandov's Stage 5 houses a 75-square-meter mock-up of a slave galley and castle exterior waiting to be stormed. Stage 7 has spacious castle interiors for sword fighting.
"We're doing it like they did then: same kind of frames, same kind of sets, everything is overdone. So we're not doing a lot of real hi-tech CGI, for example. We're doing paintings as backdrops instead of doing what everybody does today, which is just put a blue screen and you put anything you want," Jenny says.
The production employed a crew of roughly 100 people. Although he says he was "very, very happy" with the Czech crew, most of Altmayer's department heads were French. "It's the first film for the director, so it was important for him to have his people," he says. "We also need to have a minimum of French crew to maintain the French production criteria."
Post-production is also taking place in Paris. "The director is French, we're a French company, and it's very convenient for us to have the editing room just five minutes from my office," Altmayer says.
Rebate or no rebate, Altmayer says he is happy they opted for the Czech solution. "We had all the studio we wanted, all the skills we wanted and we had an economical equation that worked," he says "Prague was really to find the best economic solution with the best artistic value."