Mia Wasikowska and Christopher Abbott star in this great, if grisly, genre outing from Nicolas Pesce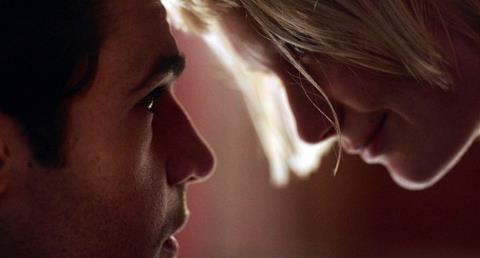 Dir: Nicolas Pesce. US. 2018. 81 mins
Crackling with cruelty, the sophomore film from Nicolas Pesce (The Eyes Of My Mother) is a psycho-sexual horror show which lifts the lid on the twisted urges of two very troubled characters. It's great, if grisly, fun.
A blend of cine-literate smarts and B-movie thrill-seeking
Adapted from a novel by cult Japanese writer Ryû Murakami, the film follows Reed (Christopher Abbott), a husband and father who is tormented by the compulsion to impale his new baby with an ice pick. To sate his need for blood, he plots to murder a call girl, telling his wife that he is away on a business trip. But the prostitute, Jackie (Mia Wasikowska), proves to be more than a match for his darkest appetites. Although audiences might feel a little short-changed by the abrupt punchline ending, this lean two-hander is a sadistically seductive experience.
Strikingly styled and playfully retro in its references, Piercing should find a receptive audience in further festival slots, particularly in events focusing on genre material. It is distinctive enough to attract theatrical distribution deals. And while the arresting design probably works best on a big screen, the film could find a home on a pay per view platform.
This is Pesce's second feature to be developed by filmmaking collective BorderLine Films; fellow directors Josh Mond and Antonio Campos serve as co-producers. A company which champions distinctive and unconventional voices, BorderLine would seem to be a good fit for Pesce's blend of cine-literate smarts and B-movie thrill-seeking.
The film nods to the 1970s in everything from the music – it borrows groovy soundtrack muzak written by Piero Piccioni and others – to the design. Reed's hotel room is furnished in leather and wood; Jackie's apartment boasts black silk sheets, a matching monochrome kitchen, and trippy wallpaper which looks like a psychedelic riff on female genitalia. Even the editing has a retro feel – Pesce employs a split screen device as he brings his two main characters together.
Christopher Abbott's soulful good looks are jarringly incongruous with his murderous desires. But Abbott gradually reveals not just the ugliness inside Reed, but the absurdity also. Fetishes – even the very darkest ones – are always slightly ridiculous when you unpack them. Reed has meticulously planned the murder of the stranger he summons to his room. He writesthe details of his plot in a little notebook with a psychotically neat hand. He calculates the timings; acts out the encounter (sound design brings a robust added level of authenticity to his mime). But when Jackie arrives, Reed's plans rapidly go off the rails.
With her performances in Stoker, Maps To The Stars and now this, Wasikowska is demonstrating a gift for wriggling into the skin of some extravagantly dysfunctional characters. If Jackie's motivations don't always make sense, that's probably because she is completely bonkers – a convenient get out clause, perhaps, but it works.
Shots of the brutalist cityscape in which the story unfolds seem curiously unreal – it gradually becomes clear that this footage is of a model rather than a real building. It's a neat device, which heightens the sense of unreliability, as hallucinations rubs shoulders with reality in Reed's psychotic mind. The climax is luridly violent, certainly, but imaginatively so. Along with ice picks and bondage ropes, the film weaponises a can opener, and, in a Cronenbergian flourish, assaults one character with a face-eating imaginary beetle.
Production company: BorderLine Films
International sales: Memento Films International, sales@memento-films.com
Producers: Josh Mond, Antonio Campos, Schuyler Weiss, Jacob Wasserman
Screenplay: Nicolas Pesce
Cinematography: Zachary Galler
Editor: Sofia Subercaseaux
Production design: Alan Lampert
Music: Randall Poster
Starring: Christopher Abbott, Mia Wasikowska, Laia Costa, Marin Ireland, Maria Dizzia, Wendell Pierce