Dir: Rob Marshall. US. 2011. 136mins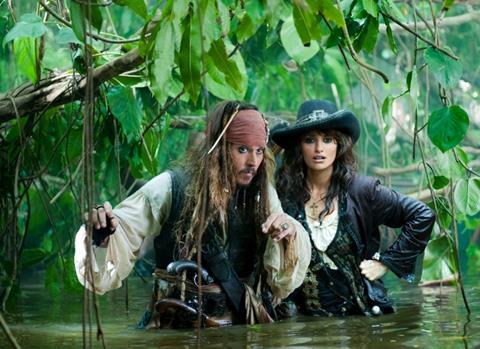 A new director and some key cast changes do little to right the ship for Pirates Of The Caribbean: On Stranger Tides, the oversized fourth instalment in this decreasingly entertaining franchise. Chicago director Rob Marshall brings back all the familiar elements - swashbuckling action, big set pieces, Johnny Depp's self-mocking camp performance - but this lumbering enterprise seems far removed from the freshness and charm of the 2003 original.
On Stranger Tides does have its bright spots, particularly Rush's continuingly clever turn as the villainous Barbossa.
Having its big public unveiling at the Cannes Film Festival before coming to US theatres May 20, On Stranger Tides seems certain to dominate multiplexes for the next few weeks until X-Men: First Class and Super 8 pose more direct challenges in early June. For a series that thus far has grossed roughly $2.7b worldwide, this new Pirates sequel (the first to be shown in 3D) is confronted by the question of not if it will do well but just how well it will do. The answer to that will be determined by whether audiences have missed Depp's heroics in the four years since At World's End or if they're ready to move on to other cinematic adventures.
Without a vessel of his own to command, Captain Jack Sparrow (Depp) finds himself aboard the ship of the ruthless Blackbeard (Ian McShane) and his beautiful daughter Angelica (Penelope Cruz), with whom Sparrow has shared a complicated romantic past. Blackbeard wants Sparrow to help guide him to the mythic Fountain of Youth, which is also being pursued by Sparrow's old nemesis, Barbossa (Geoffrey Rush).
At 136 minutes, On Stranger Tides is actually the shortest of the Pirates movies, which indicates the more-is-more mentality of this Jerry Bruckheimer franchise. Unfortunately, as the series has progressed the emphasis on spectacle has flattened much of the adorable eccentricity of Depp's once-novel turn as the flamboyant, self-deluded Jack Sparrow. And while On Stranger Tides doesn't have the maddening subplots that made At World's End indecipherable to those without an intimate knowledge of the entire series, this new chapter features a slim story that's been mercilessly stretched to allow for perfunctory action sequences.
Because of Marshall's background directing the musicals Chicago and Nine, On Stranger Tides does boast more grandiose flourishes and a minimally balletic quality to its sword fights, but the movie's slack humour and slow pace lacks the gracefulness and quicksilver wit of his best work.
Orlando Bloom and Keira Knightley, who appeared in the original trilogy, aren't around for this instalment, and while it would be inaccurate to say that their presence is missed, the new characters that screenwriters Ted Elliott and Terry Rossio introduce to the series don't add much pizzazz. As a tempestuous, untrustworthy former lover, Cruz displays critically low amounts of chemistry with Depp, while McShane projects icy menace as Blackbeard, despite the fact that the character is rather underdeveloped.
In place of the love affair between Bloom and Knightley's characters, On Stranger Tides inserts a waterlogged romance between an earnest missionary (Sam Claflin) and a mermaid (Astrid Berges-Frisbey), but this storyline seems wholly unnecessary in a movie that's pokey enough already.
Even on the level of action-adventure escapism, On Stranger Tides underwhelms, featuring only one truly imaginary sequence, which involves a face-off between Depp's team and some surprisingly malicious mermaids. Otherwise, the filmmakers rely on a lot of swordplay and chase scenes that are more elaborate than truly invigorating. It's clear that no expense has been spared to craft the film's special effects and production design, but On Stranger Tides' generally darker-tinged look (aided by shaded 3D glasses) fails to sufficiently highlight the money spent up there on the screen.
Despite being fatally cumbersome, On Stranger Tides does have its bright spots, particularly Rush's continuingly clever turn as the villainous Barbossa. When the first Pirates film, The Curse Of The Black Pearl, arrived, it was marked by outlandish but nicely controlled performances from Depp and Rush, who seemed to be relishing the chance to be so broadly entertaining in a mainstream summer blockbuster. Since then, sadly, Depp's portrayal has become more smug and lazy, while Rush's has remained sharp and lively. Tellingly, Depp only really sparks to life when he's acting opposite Rush: It's a faint reminder of what unlikely fun Pirates Of The Caribbean: The Curse Of The Black Pearl was. But that ship has long since sailed.

Production company: Jerry Bruckheimer Films
Domestic distribution: Walt Disney Pictures, www.disney.go.com/movies
Producer: Jerry Bruckheimer
Executive producers: Mike Stenson, Chad Oman, John DeLuca, Barry Waldman, Ted Elliott, Terry Rossio
Screenplay: Ted Elliott, Terry Rossio, suggested by the novel by Tim Powers, based on characters created by Ted Elliott & Terry Rossio and Stuart Beattie and Jay Wolpert, based on Walt Disney's Pirates Of The Caribbean
Cinematography: Dariusz Wolski
Production designer: John Myhre
Editors: David Brenner, Wyatt Smith
Music: Hans Zimmer
Website: www.disney.go.com/pirates
Main cast" Johnny Depp, Penelope Cruz, Ian McShane, Geoffrey Rush, Kevin R. McNally, Sam Claflin, Astrid Berges-Frisbey, Stephen Graham