The Oscar winner Sam Mendes tells Mike Goodridge why his Edinburgh opener Away We Go is a far cry from big-budget Hollywood.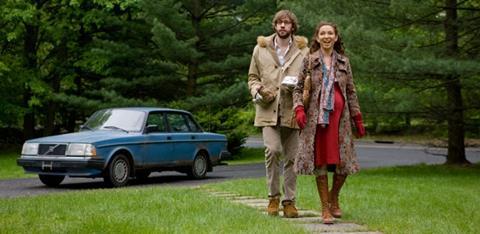 After big-budget Hollywood movies Road To Perdition and Jarhead and the not inexpensive Revolutionary Road, director Sam Mendes launched himself into a looser - and cheaper - creative experience with the comedy Away We Go.

Backed by Big Beach Films and Focus Features, the $25m movie features a large ensemble led by John Krasinski and Maya Rudolph but it was shot quickly and nimbly by Mendes, who says he wanted to "let off steam" after the intense experience of Revolutionary Road.
"The term "foreign is vaguely derogatory, relegatung the 50 or so significant territories outside the US with all their different tastes audience demographics and exhibition landscapes into one lumpen market"
But for Mendes, whose company Neal Street Productions is a producing partner on the film, Away We Go also exposed him to independent US film-making after 10 years in the studio system.

"It staggers me now that movies get made at all that are below a certain level," he says from Los Angeles. "To get any movie made now is a force of will but especially a small one. Not a lot of these movies are being made any more and those that are tend to depend on festivals. I mean the Mike Leigh movies of the world, which we live for really."

"Look at Mike Leigh - he's made 10 masterpieces in 20 years but he makes his movies for 10 cents. He just has to because it¹s not easy in England. You can't make a film under $30m in the UK because you can't make your money back there. You have to play in other countries.The US is the only country that stands a chance of making its money back just by playing theatres here."

Although $25m may not seem a particularly low budget by European standards, it is certainly on the low end for a US film co-financed by a studio division, directed by an Oscar winner and featuring, among others, Maggie Gyllenhaal, Catherine O'Hara and Jeff Daniels.

"These actors weren't doing it for any money," he says. "They were doing it for the pleasure of working on the script and working with the people involved."

At time of going to press, the film had opened well in North America, taking $130,000 on just four screens over the weekend June 5-7, which was the weekend¹s highest screen average. And, this week, Away We Go had its international premiere as the opening night film of the Edinburgh International Film Festival.

"I think we fell a little bit between two stools with festivals," he says. "We weren't quite ready for Cannes and we didn't want to wait for Venice but we wanted to open in June. We felt that traditionally there has been a way of opening smaller movies in the summer and, if they work, they can survive right through until the fall and into the winter."

Reviews have been mixed for the movie, written by husband and wife novelist team Dave Eggers and Vendela Vida, about a young couple on a tour of friends in different cities in North America in an effort to evaluate where to live.

But Mendes says audiences are responding to the couple, played by Krasinski and Rudolph. "When we got to the focus group after our first preview, all 25 people said they liked Burt and Verona," he says. "That was when I thought the movie may be too long but it works. You like them, you engage with them. That was the big challenge on this film."

Mendes is developing several projects including adaptations of George Eliot's Middlemarch and graphic novel Preacher, about a disillusioned ex-preacher, his hitman wife and vampire best friend.

"These things are not easy projects to adapt," he says. "They're dependent on getting a screenplay that's ready to go. I don't write my own material so I'm dependent on someone in a room somewhere writing something I'm probably going to spend a year of my life on. It's quite a weird feeling but that's the business. That's the position most people are in, whether they¹re writers or directors."
CAREER
Graduated from Cambridge University in 1987, first gaining attention for a West End production of The Cherry Orchard starring Judi Dench.

Appointed artistic director of London's Donmar Warehouse in 1992 where some of his own productions included hits Assassins, Cabaret and The Blue Room with Nicole Kidman. He ended his tenure in 2002. He has also worked extensively for the Royal Shakespeare Company and the National Theatre and has produced or directed Broadway hits including Cabaret, Gypsy and Shrek The Musical.

Made his film debut in 1999 with American Beauty, which won five Oscars including best picture and best director for Mendes. His other films are Road To Perdition (2002), Jarhead (2005) and Revolutionary Road (2008).

He is married to actress Kate Winslet.