Dir: Sam Mendes. US. 2009. 97 mins.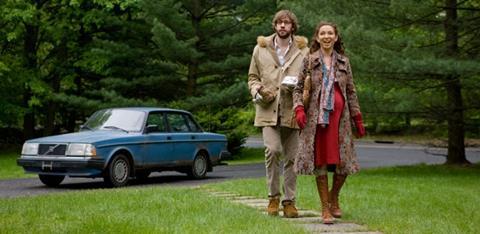 Frustratingly uneven but eventually emotionally satisfying, the slight comedy-drama travelogue Away We Go represents a stylistic shift for director Sam Mendes. Best known for the rigorously composed prestige pictures American Beauty and Revolutionary Road, Mendes here follows the misadventures of a young unmarried couple expecting their first child and, more profoundly, trying to find their place in the world. Though burdened with an arch, overly clever temperament, the film remains resonant thanks to understated performances from stars John Krasinski and Maya Rudolph.
"Away We Go offers an art-house alternative to the summer's big-budget tentpoles"
Away We Go begins a limited US release on June 5, offering an art-house alternative to the summer's big-budget tentpoles. With no major box-office names, this Focus Features offering will instead rely on three other factors to attract discriminating audiences: good reviews, Sam Mendes's critical track record, and the allure of a film featuring the first produced screenplay from acclaimed authors Dave Eggers and Vendela Vida, who are married.
Colorado couple Burt (Krasinski) and Verona (Rudolph) have their first child on the way, but when his self-absorbed parents (Jeff Daniels and Catherine O'Hara) announce they're moving away, they decide to make a fresh start themselves, visiting family and friends across North America to determine where they want to live to raise their daughter.
On the strength of impeccably shot and designed studio features like American Beauty, director Sam Mendes has made his name as a craftsman specialising in thought-provoking, portentous films. But with Away We Go, Mendes appears to be making his own version of an American indie along the lines of The Savages or Juno where meticulous mise en scene takes a backseat to a rough-around-the-edges aesthetic and a sardonic sensibility.
Ostensibly, Burt and Verona are looking for a suitable home to raise a family, but the screenplay sees this couple's journey as more existential than physical. In their 30s, financially strapped and concerned that they're irredeemable failures in comparison to their peers, Burt and Verona are really seeking some sort of reassurance that they've made the right decision in becoming parents.
While the development of that central idea plays out in several poignant ways, too often the filmmakers juxtapose the story's contemplative tone with a quirky, flip attitude which is off-putting, especially during the couple's more eccentric encounters with Allison Janney as Verona's bawdy former boss and Josh Hamilton as the hippie-ish lover of Burt's family friend LN (Maggie Gyllenhaal).
Even though the film struggles to maintain a steady balance between humour and pathos, a lot of credit must be given to the two leads for supplying Away We Go with its emotional anchor. Krasinski portrays Burt as a sweet, somewhat immature young man whose outwardly jokey demeanour belies his fears that Verona doesn't want to get married.

For her part, Rudolph plays Verona as Burt's quietly suffering better half who's still struggling with the abandonment she experienced after the death of her parents. The screenplay smartly resists laying out any big dramatic scenes between the couple until near the end, instead allowing the two actors to establish a casual but realistic rapport indicative of a long-term couple confronting an uncertain future.
In terms of the supporting cast, for every over-the-top portrayal from someone like Janney, there's an equally expert comedic performance from the likes of Gyllenhaal as a smug "enlightened" New Age woman.

In more dramatic roles, Paul Schneider is superb as Burt's heartbroken brother, and Chris Messina and Melanie Lynskey make the most of their brief screen time as a Montreal couple whose seemingly ideal family life slowly reveals the pain that visits even the most successful of marriages.
Production companies
Big Beach Films
Edward Saxon Productions
Neal Street Productions
Worldwide distribution
Focus Features/FFI
Producers
Edward Saxon
Marc Turtletaub
Peter Saraf
Screenplay
Dave Eggers
Vendela Vida
Cinematography
Ellen Kuras
Production designer
Jess Gonchor
Editor
Sarah Flack
Music
Alexi Murdoch
Main cast:
John Krasinski
Maya Rudolph
Jeff Daniels
Maggie Gyllenhaal
Allison Janney
Melanie Lynskey
Chris Messina
Catherine O'Hara
Paul Schneider