Dir: Regis Roinsard. France-Belgium. 2012. 111mins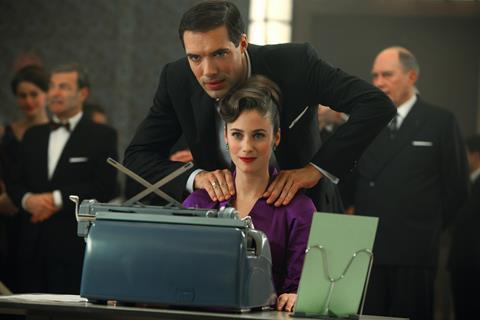 Surely the first period rom-com to centre on the speed-typing competitions that were all the rage in the 1950s, commercials director Regis Roinsard's first feature delivers a sparkling Gallic take on what feels like a vintage Hollywood love story. Though the romance between the ambitious trainer-boss played by Romain Duris and Deborah Francois' gifted typist protégée-secretary follows a well-trodden narrative path, complete with pride-fuelled misunderstandings and third-act setbacks, the chemistry between the two leads is positively nuclear, and the film's effervescent, spot-on evocation of the period in its visual style and soundtrack is a joy to absorb.
Somehow managing to combine the peppiness of a Doris Day with the sulky intensity of a Noomi Rapace, Deborah Francois is a revelation.
With its high feelgood quotient and classy date-movie potential, Populaire is likely to travel far beyond its native shores – and may even manage to break out of the Best Foreign Film ghetto and score a couple of Oscar nods in other categories, such as production design or cinematography (the latter is by a craftsman of lighting, Guillaume Schiffman, who already scored a nomination in 2012 with The Artist).
In France, where it is released on November 28, preview screenings have already earned the film the prestigious audience approval label from all four major distributors – UGC, Pathé-Gaumont, CGR and Kinépolis. So far the only other film to manage that feat was 2011 mega-hit Untouchable (a.k.a. Les Intouchables), and while it's difficult to see Populaire breaking domestic box office records to the same extent, it should prove to be très très populaire.
Somehow managing to combine the peppiness of a Doris Day with the sulky intensity of a Noomi Rapace, Deborah Francois is a revelation as Rose Pamphyle, the girl from the sticks who rises to become a French speed-typing champion thanks in part to the tutelage of boss Louis Echard (Duris). Louis is a cocky insurance agent with ideas above his small-town station, who keeps Rose on beyond her disastrous trial period as office secretary because her speed-typing ability appeals to his competitive nature – not, of course, because he's attracted to her.
But he's also battling with a fear of commitment that has already lost him the hand of his childhood sweetheart Marie (The Artist's Berenice Bejo); instead she married an American, Bob (Shaun Benson), who acts as Louis' amused confidant. The chasteness of the rapport between Rose and Louis, even after she moves into his old rambling family house so he can coach her more efficiently, is part of the charm of a film that references classic 1950s comedy (Billy Wilder and Frank Tashlin both come to mind) in both visual style, musical soundtrack and its embracing of a certain spirit of innocence that comes with the period.
However, Populaire also manages to reflect in a wryly contemporary fashion on the way the pressure a trainer exerts on the athlete he's coaching can act as a metaphor for the wrong type of romantic relationship, or the way technology (whether vintage or modern) can become an extension of the mind and body but also a liability.
Packed with period colour – from typewriters so desirable they make one yearn for the pre-laptop era to those awful flesh-hued bras to the retro sodium lighting used in night scenes - this is a film that, like Mad Men, delights us with the detail of an era that still had an uncomplicated appetite for modernity. And the neo-retro soundtrack, with its bursts of Duane-Eddy-style guitar or Platters-like vocal harmonies, seals a package that thrives on rhythm and dexterity.
Production company: Les Productions du Tresor
International sales: Wild Bunch, www.wildbunch.biz
Producer: Alain Attal
Screenplay: Regis Roinsard, Daniel Presley, Romain Compingt
Cinematography: Guillaume Schiffman
Editors: Laure Gardette, Sophie Reine
Production designer: Sylvie Olive
Music: Rob and Emanuel D'Orlando
Main cast: Romain Duris, Deborah Francois, Berenice Bejo, Shaun Benson, Melanie Bernier, Nicolas Bedos, Miou-Miou, Eddy Mitchell