Dir/scr: Sam de Jong. Netherlands. 2015. 78mins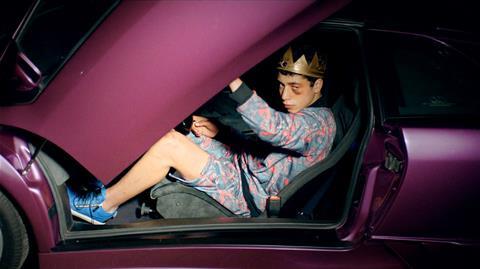 Teenage traumas in the hood, with gangstas hovering, inaccessible love objects to be won and the odd pair of luxury sneakers – it all adds up to an increasingly familiar format in European urban realism. But we're not used to seeing it in a Dutch context, nor with the kind of skewed comic approach of Prince, an enjoyably idiosyncratic debut feature from Sam de Jong.
The film is strongest when it lets its cast, notably its younger non-professional members, to imprint their uningratiating personality on the action.
Carrying the production stamp of modish street-culture brand VICE, Prince recounts the coming-of-age travails of a Dutch-Moroccan teenager. That the setting is not the toughest banlieue estate but a neat, bland-seeming part of Amsterdam contributes to the charm. Ultimately not quite distinctive enough for serious export prospects, Prince should find appreciative audiences at festivals, especially with a youth constituency, after opening Berlin's Generation 14plus strand.
The young hero is Ayoub (Elasri), son of separated parents – a Dutch mother (Elsie de Brauw) and a Moroccan dad (Chaib Massaoudi) seriously on the skids. Hanging out with his friendsand avoiding his older tormenters, Ayoub dreams of Laura (Sigrid ten Napel), a blonde teen goddess who seems eternally to glide in slow motion. Gauche Ayoub stands little chance of impressing her – unless, he thinks, he gets in with manifestly deranged local dealer Kalpa (rapper Freddy Tratlehner – larger than life, to say the very least). At first, associating with Kalpa gets Ayoub what he wants – notably a pair of fancy Zanotti trainers, which unlock his macho strut. But predictably, that's where his troubles begin.
Prince benefits from an appealing stylistic disconnect, as it moves from a base note of detached minimalism to a more intense, almost surreal register, although this eclecticism finally dilutes the film's coherence. In the opening sequences, de Jong establishes a singular tone, with static compositions, symmetrical framing and heightened rhythmic editing suggesting a cinematic strip cartoon, with touches of Aki Kaurismäki's deadpan lugubriousness and of Napoleon Dynamite's absurdism. Later, though, de Jong moves into more expressionistic mode - for example, with a conventionally dynamic gang-beating sequence.
Elsewhere the film offers a gently dream-like touch - when Ayoub acquires the crown that makes him the titular 'prince' - and even outright Lynchian weirdness for the scenes with Kalpa, who presides over his own private meat freezer.
The film is strongest when it lets its cast, notably its younger non-professional members, to imprint their uningratiating personality on the action. Elasri in particular is a natural, with Ayoub believably turning from twerp to dysfunctional creep before excavating his inner nice guy. Sociologically too, the film is distinctive in focusing on Dutch-Arab characters - although there's little sense of Muslim cultural identity, the emphasis being rather on Ayoub's sense of difference from his Dutch mother and older half-sister (Olivia Lonsdale).
The tonal unevenness extends to a conclusion that offers easy reconciliation all round, despite a nuance of residual menace, and that too neatly lets its characters off the hook. Ultimately, Prince is unwilling to follow through on its darker impulses, while equally reluctant to go the whole nine yards in its lighter comedy register. Even so, its stylistic brio makes Prince enough of a live wire to bode well for de Jong's future. Palmbomen's electronic score, leavened with Ayoub's mum's beloved pop reggae, adds jaunty, 80s-retro flavouring.
Production companies: Halal Pictures, VICE Media
International sales: Mongrel International, 
charlotte@mongrelmedia.com
Producers: Gijs Kerbosch, Roel Oude Nijhuis, Gijs Determeijer
Cinematography: Paul Özgür
Editor: Mieneke Kramer
Production designer: Sanne Schat
Music: Palmbomen
Main cast: Ayoub Elasri, Jorik Scholten, Achraf Meziani, Oussama Addi