Dir: Joe Nussbaum. US. 2011. 103mins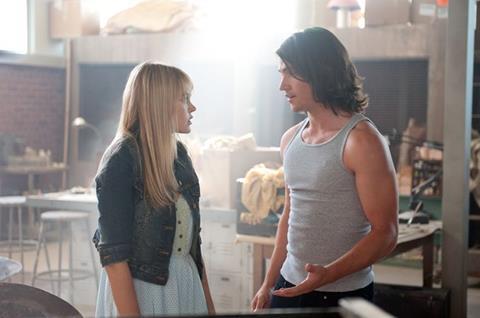 Geared to an audience too young to have gone to their own high school prom yet, Prom is a squeaky-clean teen comedy-drama that turns the angst and hormones of adolescent life into a family-friendly affair. A movie in which even the brooding rebel is a pretty sweet kid, this Disney offering has its share of heart, but the film's aggressively toothless approach keeps the proceedings from feeling very authentic.
The happy endings in store for most of Prom's characters are executed with genuine gusto.
Opening April 29, Prom doesn't offer much star wattage, so the film's main draw will be its universal theme: the excitement and agony associated with prom night. Prom will serve as counter-programming to young females on a weekend when Fast Five will scoop up most males, but this film's noticeable lack of edge will prevent it from expanding much beyond its core demographic.
At Brookside High, smart but single senior class president Nova (Aimee Teegarden) is organising the school prom, which will mark the end of the school year and the last time her classmates will all be together before leaving for college. But after a fire destroys all of her decorations weeks before the big dance, she has to work with Jesse (Thomas McDonell), the school's resident bad boy, to pull together the event in a short amount of time.
Meanwhile, her classmates – including nerdy Lucas (Nolan Sotillo), who has a crush on the beautiful but seemingly unobtainable Simone (Danielle Campbell) – all struggle with their own romantic problems as prom night draws near.
Directed by Joe Nussbaum (Sleepover, Sydney White), Prom favours jokey humour and standard teen predicaments for much of its forward momentum, resulting in predictable scenarios in which just about every character represents a familiar, sanitized version of a high school type. The movie's PG rating prevents there from being much swearing or even sexual innuendo, but while that will allow Disney to expand their audience to include younger viewers, it also infantilises the storyline.
Consequently, Prom feels like an extended kids' sitcom, the sort of programming one would see on The Disney Channel. While one could argue that Prom is a rebuttal to the popularity of racy teen TV dramas like Gossip Girl and R-rated films like Superbad, the movie's chaste innocuousness is just as exaggerated.
To be fair, the filmmakers don't approach these uninspired storylines with cynicism: Indeed, the happy endings in store for most of Prom's characters are executed with genuine gusto, and Teegarden and McDonnell display some chemistry. But Prom confuses its younger audience for an unsophisticated one, doling out characters who display little of the vigour or spark of actual teenagers. Likewise, while the large cast features several likeable turns, the actors' Photoshop-perfect complexions start to seem uncomfortably inhuman.
Production company: Rickshaw Productions
Domestic distribution: Walt Disney Pictures, www.disney.go.com/movies/index
Producers: Justin Springer, Ted Griffin
Executive producer: Samson Mucke
Screenplay: Katie Wech
Cinematography: Byron Shah
Production designer: Mark White
Editor: Jeffrey M. Werner
Music: Deborah Lurie
Website: www.disney.com/prom
Main cast: Aimee Teegarden, Thomas McDonell, De'Vaughn Nixon, Danielle Campbell, Yin Chang, Jared Kusnitz, Nolan Sotillo, Cameron Monaghan, Kylie Bunbury, Joe Adler, Janelle Ortiz, Jonathan Keltz, Nicholas Braun, Raini Rodriguez