Dir: Adam Kassen & Mark Kassen. US. 2011. 99mins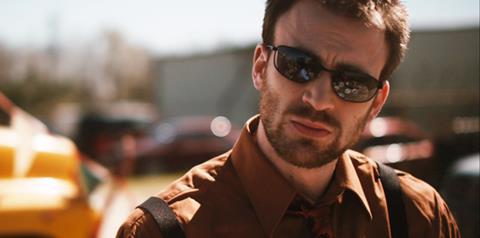 A true-life legal drama with a tormented hero lawyer at its centre, Puncture has the potential to be riveting but is consistently undone by a lukewarm, conventional handling of its David-versus-Goliath storyline. Making their feature directing debut, brothers Adam and Mark Kassen benefit from a committed, urgent performance from star Chris Evans, but one can't escape the impression that the actual events the movie dramatises are far more compelling than what's on the screen.
Those who only know Evans from his superhero roles will be treated to a scrappier though equally confident turn.
Opening domestically September 23, this limited release may be able to capitalise some on Evans' higher visibility after Captain America: The First Avenger. But without much marketing muscle or glowing reviews behind it, Puncture will probably be a minor theatrical player, hoping to make its impact felt in ancillary markets.
Mike Weiss (Evans) is a passionate and successful Houston personal injury attorney who's been able to hide a major drug habit from his law partner (and childhood friend) Paul Danziger (Mark Kassen). But when they begin representing an inventor (Marshall Bell) who's developed a needle that will prevent the spread of infection in hospitals, Weiss has to take on both the pharmaceutical industry and his own demons.
Based on an actual case from the late 1990s that was litigated by the real Mike Weiss, Puncture is at heart yet another legal drama (like Erin Brockovich) in which a vigilant, impoverished crusader must take on powerful corporations doing harm to the public. The Kassen brothers invest the story with a certain amount of righteous anger, but the movie's more palpable drama comes from Weiss' inner struggle, which finds him battling addiction while fighting to expose the health industry's refusal to support his client's innovative needles because of their higher cost.
Those who only know Evans from his superhero roles in Captain America and the Fantastic Four films will be treated to a scrappier though equally confident turn as the tormented Weiss. Though he occasionally overdoes the character's hotshot persona, Evans possesses an inherent grittiness that makes Weiss sympathetic even when he's surrendering to his vices. Unfortunately, Puncture's attempts to dramatise Weiss' relationship with his practical, straight-arrow partner Danziger prove less effective since co-director Mark Kassen's dialled-down performance lacks the resonance of his co-star.
Also problematic is the filmmakers' treatment of the legal case, which ultimately feels rather bloodless. To personalize Weiss' cause, Puncture presents the viewer with a nurse (Vinessa Shaw) stricken with HIV because of unsafe needles, but because the character is mostly just a tool for eliciting sympathy who's largely off-screen, her plight never fully registers.
The movie has more luck with its portrayal of Weiss' inventor client, a bitter idealist who isn't an easy guy to like. This succeeds in complicating the audience's rooting interest, but the legal manoeuvring and monologues about the ethics of law will all be very familiar to anyone who's watched a TV lawyer drama in the last 25 years.
Production companies: Like Minded Pictures, Cherry Sky Films
Domestic distribution: Millennium Entertainment, www.millenniumentertainment.me
Producers: Adam Kassen, Mark Kassen
Executive producers: Jeffrey Gou, Joan Huang, Paul Danziger, Rod de Llano, Craig Cohen
Screenplay: Chris Lopata, story by Ela Thier & Paul Danziger
Cinematography: Helge Gerull
Production designer: Chris Stull
Editor: Chip Smith
Music: Ryan Ross Smith
Website: www.puncture-the-movie.com
Main cast: Chris Evans, Mark Kassen, Brett Cullen, Marshall Bell, Michael Biehn, Jesse L. Martin, Roxanna Hope, Tess Parker, Kate Burton, Vinessa Shaw