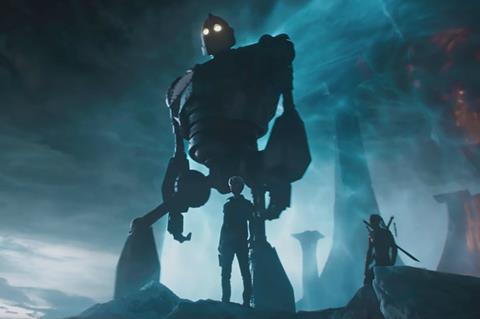 MARCH 10 UPDATE: SXSW director of film Janet Pierson has confirmed the world premiere of Steven Spielberg's Ready Player One will be the (not so) surprise screening on Sunday.
The world premiere of John Krasinski's horror film A Quiet Place starring Krasinski alongside his wife, Emily Blunt kicked off the annual film festival in Austin, Texas, which runs from March 9-17.
However SXSW isn't all about the big screen and offers a panoply of music, gaming, technology discussions, conferences, and keynote speeches to savour. The entire festival runs through March 18.
Here, with the greatest respect to Lena Dunham, Ethan Hawke, Arnold Schwarzenegger and others, Screen offers a whistle-stop tour of several anticipated highlights. Click here for the full roster of events.
CNN's Jake Tapper in Conversation with Bernie Sanders (Session)
March 9, 12.30pm CDT
The 2016 presidential hopeful who captured the hearts of young voters makes his first appearance at SXSW and will discuss news, politics and the future of the United States with CNN presenter Jake Tapper.
Touch The Sun: NASA's First Mission To Our Star (Conferences / Intelligent Future)
March 9, 11am CDT
Elizabeth Congdon and Nicola Fox from the Johns Hopkins University Applied Physics Laboratory discuss the revolutionary heat shield developed for NASA's Parker Solar Probe, which launches later this year, and will fly through the sun's corona and gather information about our local star.
Film Keynote: Darren Aronofsky (Session)
March 10, 11am CDT
The Brooklyn auteur (pictured) whose shocking parable mother! was the talk of the early awards season last year before it faded fast, talks about his work and remarkable roster of credits, from breakout Pi, Requiem For A Dream and The Fountain, to commercial success with The Wrestler, Black Swan, and Noah.
Informal & Candid Conversation with Female Leaders in Television (Keynote)
March 10, 2pm CDT
Paramount Television president Amy Powell joins Dakota Fanning, EVP of TNT original programming Sarah Aubrey, Tonik Productions co-founder and producer Tonya Lewis Lee, EVP creative affairs & co-president of Warner Horizon Susan Rovner, and Warner Bros executive producer Janine Sherman Barrois in a conversation about how they are redefining women's place in the entertainment industry.
The Bill Murray Stories: Life Lessons Learned From A Mythical Man (Films / Documentary Spotlight)
March 10, 9.15pm CDT
Murray is famous for just turning up randomly in ordinary people's lives – be it a karaoke session or a kick-about with a ball. Director Tommy Avallone presents previously unseen footage of Murray's exploits in what could turn out to be a gem.
Film Keynote: Barry Jenkins (Session)
March 11, 11am CDT
The director of last year's best picture Oscar winner Moonlight and Medicine For Melancholy – which premiered at SXSW – discusses his career and upcoming projects If Beale Street Could Talk, and TV show The Underground Railroad for Amazon Studios.
A Conversation with Olivier Assayas, Moderated by Richard Linklater (Session)
March 11 ,12.30pm CDT
The French auteur behind Personal Shopper and Demonlover sits down with Austin fixture Richard Linklater to talk about what they do and love in what promises to be a cinephile's delight.
Spike Lee Master Class: She's Gotta Have It Episode 10 (Featured Speakers)
March 11, 3.30pm CDT
Lee, always provocative and plugged into the zeitgeist, presents the finale of his Netflix series She's Gotta Have It before treating attendees to a lecture.
Blockchain & the Impact of a Decentralized World (Session)
Monday March 12, 12.30pm CDT
Alex Winter, in post-production on his documentary Trust Machine: The Story Of Blockchain, joins Kim Jackson of SingularDTV and freelance writer Logan Hill to guide attendees through blockchain, decentralisation and and how it will affect our everyday lives.
The Future is Grown: Mushroom Mycelium & Design (Conferences / Intelligent Future)
March 12, 3.30pm CDT
The hot idea of the biotech revolution comes under the microscope as Gavin McIntyre from Ecovative Design and Danielle Trofe from Danielle Trofe Design explain how biomaterials are shaping our world.
Rian Johnson and Ram Bergman (Session)
March 12, 3.30pm CDT
Brick wasn't just significant because it starred a then-unknown Joseph Gordon-Levitt. The high school noir and Sundance 2005 selection happened to directed by a then-unknown Rian Johnson. Fast forward 13 years and Johnson and his long-time producing partner Ram Bergman have the $1.3bn global smash Star Wars: The Last Jedi under their belts and are plotting a new trilogy of Star Wars movies. The partners discuss their career.
The Last O.G. (Episodic)
March 12, 6pm CDT
Jordan Peele, fresh from his best original screenplay Oscar success with Get Out, offers a peek at his new TV comedy starring Tracy Morgan as an ex-con adjusting to life after 15 years in prison. Cedric the Entertainer also stars.
Surprise screening (Films)
March 11, 9.30pm CDT
UPDATED: Speculation confirmed. Steven Spielberg's sci-fi adventure Ready Player One based on Austin author Ernest Cline's nostalgia-infused romp through modern pop culture will be the surprise screening on Sunday (March 11). The film opens via Warner Bros in the US on March 29 and UK on March 28. Many of the cast are attending SXSW in other capacities. Tye Sheridan stars alongside Ben Mendelsohn, Olivia Cooke, Letitia Wright from Black Panther, Simon Pegg, and Mark Rylance.