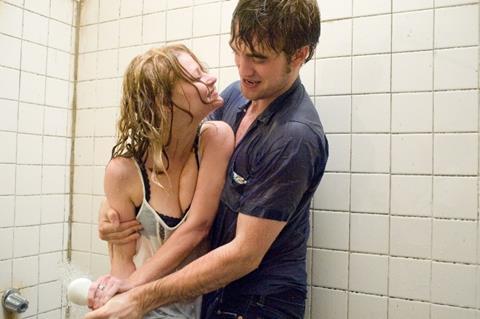 Playing a moody New York student not too different from his moody vampire Edward Cullen, Robert Pattinson makes his first screen outing since the massive success of the Twilight films in Remember Me, a self-consciously dark romantic drama with a clumsy surprise ending. In spite of the film's shortcomings, Pattinson's legion of young female fans will certainly give this new vehicle a big start at the box office. And, by touting the strong supporting cast and themes of family and loss, distributor Summit may be able to draw some older moviegoers as well.

Release could tap into pent-up demand among 'Twihards' awaiting the June opening of the franchise's third entry, Eclipse.

Summit (also, of course, home to the Twilight franchise) opens the PG-13 film wide in the US on March 12. Matching the performance of last November's Twilight instalment New Moon isn't on the cards, but the release could tap into pent-up demand among 'Twihards' awaiting the June opening of the franchise's third entry, Eclipse (a new trailer for which Summit is cannily sending out with Remember Me).

Independent distributors that have licensed the film from Summit for other territories should also be able to capitalise on Twilight fever when they open Remember Me during the run-up to Eclipse's near-global launch.

Scripted by first-time writer Will Fetters, the film is bookended by tragic incidents involving its two young lovers. Pattinson's Tyler is a rebellious hipster tortured by memories of his older brother's suicide. Tyler is close to his artistic kid sister (Ruby Jerins) and his re-married mother (Chocolat's Lena Olin), but seriously at odds with his overbearing and distant father (Pierce Brosnan).

Ally (played by Lost's Emilie de Ravin), who as a child witnessed her mother's murder, lives with her tough detective dad (Adaptation's Chris Cooper).

After a twist of fate brings them together, Tyler and Ally start a romance that helps them both move on from their respective pasts, until an awkward secret sours the relationship.

Director Allen Coulter, who previously made crime thriller Hollywoodland and directed TV series including The Sopranos, struggles to give the shapeless script dramatic momentum. Long stretches of talky two-character scenes feel uneventful and while the romance produces a few affecting moments the comic touches are forced. When something does happen the film gets needlessly overwrought.

The surprise ending uses the events of September 11, 2001 (also deployed in recent Nicholas Sparks adaptation Dear John) to conclude the story on a tragic note. But the ending comes so abruptly and - unless you're keeping very careful track of the film's time line - so unexpectedly that it feels like dramatic cheating.

In a role that's half James Dean and half Holden Caulfield, Pattinson moves a bit beyond his vampire persona but not far enough to conclusively prove his suitability for more demanding parts. And there's not much chemistry between him and de Ravin.

In the rest of the supporting cast, Cooper and Olin lend substance and Jerins (from new TV series Nurse Jackie) is impressively poised. Brosnan stands out in his latest enjoyably shaded performance.

Director of photography Jonathan Freeman (who worked with Coulter on Hollywoodland and a number of TV pilots) gives the film an attractively muted look and makes judicious use of New York locations.
Director
Allen Coulter

Productions companies
Underground Films
Summit Entertainment

US distribution
Summit Entertainment

International sales
Summit Entertainment

Producers
Nicholas Osbourne, Trevor Engelson

Executive producers
Carol Cuddy, Robert Pattinson

Screenplay
Will Fetters

Cinematography
Jonathan Freeman

Production design
Scott P Murphy

Editor
Andrew Mondshein

Music
Marcelo Zarvos

Main cast
Robert Pattinson
Emilie de Ravin
Chris Cooper
Lena Olin
Tate Ellington
Ruby Jerins
Pierce Brosnan