A gang member attempts to save his brother from death in this Australian thriller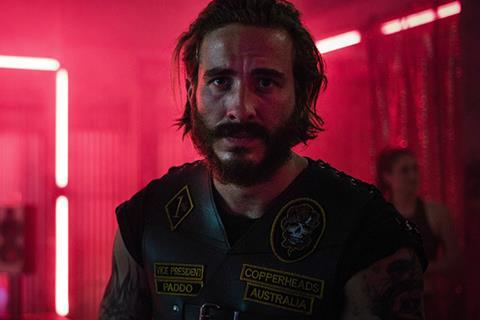 Dir. Stephen McCallum. Australia. 2017. 92mins
The bonds of brotherhood — whether within a family or among criminals — are tested in 1%, a confident but increasingly predictable crime saga from first-time feature filmmaker Stephen McCallum. Filled with grubby urgency and sleazy sexiness, this tale of an honourable lieutenant who must choose between his simpleton brother and the ruthless kingpin of his biker gang adeptly establishes its milieu before bowing to nearly every genre convention. As a directorial sample, it is all superficial stylishness and self-conscious nihilism with miniscule depth underneath.
Cinematographer Shelley Farthing-Dawe shoots the Perth locales in lurid, vibrant tones
Premiering at the Toronto Film Festival, this Australian offering will appeal to fans of crime dramas like Animal Kingdom and Gomorrah — not to mention the twisty television adaptations they inspired. Starring Ryan Corr and Abbey Lee, 1% has some marquee value, but nonetheless wider theatrical prospects look modest.
Corr plays Paddo, the soft-spoken vice president of a motorcycle gang known as the Copperheads. The gang's brutish president Knuck (Matt Nable) is about to be released from prison and although this father figure is pleased with how Paddo has guided the gang in his absence, he's anxious to reassert his authority. But right before Knuck's release, Paddo's incompetent brother Skink (Josh McConville) botches a drug deal, putting the Copperheads in the crosshairs of rival gang the Devils. Paddo commits the Copperheads to an unfavourable money-laundering arrangement with the Devils in order to save Skink from death; a deal Knuck instantly nixes.
With a screenplay by Nable, 1% quickly places Paddo in an impossible scenario, only to further complicate the dilemma as the film barrels forward. Paddo can't tell Knuck that he agreed to the arrangement to protect his brother, who Knuck loathes, and so he must try to convince him through deception. The more times Paddo fails in that mission, the closer Skink gets to being executed, forcing our antihero to a breaking point where he must decide where his true loyalties lie.
The world of Australian motorcycle gangs is initially intriguing as we see these burly, tattooed macho men operating like mobsters, riding their bikes in packs when they're not fraternizing with strippers or hazing new recruits. But 1% eventually runs aground when it becomes clear that these people are mostly genre clichés, leaving little room for surprise or nuance.
Corr projects a thoughtful, worried countenance throughout, the character constantly trying to think his way out of his predicament. But Paddo doesn't seem to be a man undone by his pride or struggling with any other inner conflict. In truth, he's too bland to decipher, and whatever complicated feelings he might have about Knuck's return, Corr can't bring them to light.
If Corr is opaque, Lee is too obvious as Katrina, his seductive long-time girlfriend who's far more calculating than her man. It's not uncommon for this kind of thriller to feature a Lady MacBeth-like schemer, but Lee's vampy performance leaves little doubt of Katrina's power-hungry ploys, thereby rendering every twist a fait accompli.
Cinematographer Shelley Farthing-Dawe shoots the Perth locales in lurid, vibrant tones, lending a gangland vibe to the material — especially when the bloodshed starts up. And Simone Kessell impresses as Knuck's devoted wife, who's holding out hope that they can finally have a baby; a maternal aspiration that suggests she's wilfully oblivious to how distant her husband is acting since getting released.
As for Knuck, Nable has just the right look for a bare-knuckle thug desperate to hold onto his kingdom — too bad that his own screenplay hasn't given the character any particularly clever ways to go about that.
Production companies: Ticket to Ride, Screenwest, Lotterywest, Screen Australia, Spectrum Films, Red Apple, Head Gear Films, Metrol Technology, Kreo Films, See Pictures
US sales: United Talent Agency, ycassistant@unitedtalent.com
International sales: Celluloid Dreams, info@celluloid-dreams.com
Producers: Jamie Hilton, Michael Pontin
Executive producers: Josh Pomeranz, Viv Scanu, Stephen Boyle, Phil Hunt, Compton Ross
Screenplay: Matt Nable
Cinematography: Shelley Farthing-Dawe
Production design: Louise Brady
Editor: Veronika Jenet
Music: Chris Cobilis
Main Cast: Ryan Corr, Abbey Lee, Simone Kessell, Josh McConville, Matt Nable, Aaron Pederson