Dir/scr: Mike Mills. US. 2016. 118mins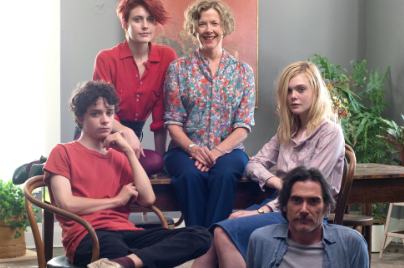 With 20th Century Women, writer-director Mike Mills again demonstrates a sharp, sensitive eye for the ways that people learn to make peace with lives they didn't quite anticipate or want. As with 2010's Beginners, his new comedy-drama tackles love, family and generational divide with unwavering gentleness, looking at how one impressionable 15-year-old is shaped by three impactful women facing their own struggles. Although a touch too precious and slight, 20th Century Women is lit from within by its endless curiosity about its evolving characters.
There's a refreshingly unresolved quality to 20th Century Women that creates room for audiences to be undecided in their opinion of any of the characters onscreen
After premiering at the New York Film Festival, 20th Century Women will open in the US on December 25, no doubt hoping to make a splash in the Oscar race. Playing a melancholy matriarch, Annette Bening will probably lead the film's awards discussion, and good buzz should attract plenty of art-house business.
Set in Santa Barbara in 1979, the film stars Lucas Jade Zumann as Jamie, a teenager living with his single mom Dorothea (Bening), who rents out rooms to an aspiring artist named Abbie (Greta Gerwig) and a handyman, William (Billy Crudup), who is doing endless renovations to her house. Concerned that she can no longer connect with her son, Dorothea taps Abbie and Julie (Elle Fanning), a childhood friend with whom Jamie is secretly in love, to help him learn what it means to become a man.
Just as Beginners, which won a Best Supporting Actor Oscar for Christopher Plummer, was inspired by Mills' life, so too is 20th Century Women based on autobiographical elements. This partly explains the depth of feeling that the filmmaker brings to this story — as well as its meditative, slightly meandering tone. 20th Century Women isn't driven by its plot as much as it moves from incident to incident, with Mills ruminating on these unhappy individuals taking stock of their circumstances.
And, as he did with Beginners, Mills adopts an almost novelistic approach. Through voiceover, characters narrate their backstory and reveal what will become of them in the future. In addition, 20th Century Women gives its narrative a social context, placing these episodic events against a backdrop in which punk rock is exploding, Jimmy Carter's presidency is flailing, and a rise in feminism is challenging patriarchal norms. Sometimes, these external cultural elements can feel too heavy for such a delicate film to bear, so it's a relief that they're mostly decoration rather than the central thrust.
What does work consistently is Mills' and his cast's ability to make these characters resonant without resorting to gimmicks normally associated with the coming-of-age film, period drama or dysfunctional-family satire. There's a refreshingly unresolved quality to 20th Century Women that creates room for audiences to be undecided in their opinion of any of the characters onscreen, and the actors' vulnerability lends these understated performances a quiet grace that is often touching.
For instance, Julie may be a promiscuous, restless young woman who only thinks of Jamie as a friend — and Abbie might be an outsider struggling to find her place after surviving cancer — but 20th Century Women always pushes against cliché, and so the characters' interactions consistently surprise us. Mills isn't after shocking revelations or simplistic conclusions. Instead, he is trying to suggest that our lives can be bigger and more rewarding if we're willing to open ourselves up to others, see people for who they are and, likewise, let them really see us.
That's a lovely sentiment, and the cast members pinpoint its truth without succumbing to mawkishness. Bening plays Dorothea as an enlightened woman who, nonetheless, feels adrift in this new world of punk rock and assertive feminism. The actress finds the bruised humour in Dorothea's disappointed realisation that she's not as hip as she thought. Zumann may be a bit too recessive as the shy Jamie, but he displays a sweet rapport with Gerwig and Fanning, albeit in different ways. (Abbie is more like a cool older sister, while Julie is the quintessential unobtainable teen crush.) And Crudup does some of his finest film work as the handsome, sad handyman who, unlike Jamie, has no problem getting women — he simply doesn't know what to do once he beds them. 20th Century Women loves these people, even when they don't love themselves.
Production companies: A24, Annapurna Pictures, Modern People, Archer Gray
US distribution: A24, http://a24films.com/
UK distribution: eOne, www.eoneukslate.co.uk
Producers: Megan Ellison, Anne Carey, Youree Henley
Executive producer: Chelsea Barnard
Cinematography: Sean Porter
Production design: Chris Jones
Editor: Leslie Jones
Music: Roger Neill
Main Cast: Annette Bening, Elle Fanning, Greta Gerwig, Lucas Jade Zumann, Billy Crudup