Dir. Mai Masri. Palestine/France/Jordan/Lebanon/United Arab Emirates/Qatar . 2015. 103 mins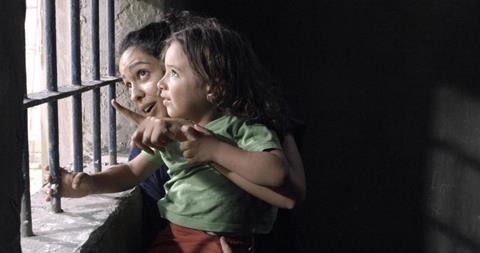 The feature film debut from Palestinian documentarist Mai Masri, 3000 Nights explores the plight of the many Palestinians currently detained in Israeli prisons through the story of one inmate. Layal (Maisa Abd Elhadi) is a newly married schoolteacher who finds herself accused of terrorist activities after giving a lift to an injured boy. In prison, she discovers that she is pregnant; she is forced to give birth to and raise her son behind bars.
The political unrest outside the prison walls ignites within them
It's emotive material, handled with a blunt but largely unsensational approach. However, the prevalence of women in prison cliches, coupled with some rather schematic characterisation, prevent this from matching the emotional impact of the similarly themed Argentinian picture Lion's Den (Leonera). Outside its festival run (Toronto, Pusan and on to London), the picture's theatrical prospects are less certain, although sales to some territories are not out of the question.
The visceral opening sequence is highly effective. The setting is Nablus, in the occupied West Bank in 1980. Nervy handheld camera captures a terrified young woman, blindfolded and bundled into the back of a prison van. Layal is distraught and desperate to talk to her husband. The sneering prison guard, nicknamed The Crow, openly laughs at her request. This character is one of the film's less successful elements. She's too sadistically gleeful to be fully plausible, and her catchphrase of "I'll show you…" has a pantomime quality.
Layal finds herself deposited in a cell with hardbitten Israeli prisoners, presided over by fearsome queen bee Ze'eva (Khitam Edelbi) and scrawny, tattooed junkie Shulamit (Raida Adon). Terrified, she manages to persuade the hatchet-faced prison governor to let her see her husband. This special treatment draws attention; now the Arab prisoners, particularly one-armed Lebanese freedom fighter Sanaa (Nadira Omran), also treat her with suspicion.
The news of her pregnancy means that Layal is moved into a cell with other Palestinians, and there she finds an uneasy and often turbulent support system. That changes when she has her baby boy, Nour. Masri makes a bit of a meal of the birth – her camera lingering on shackled arms and ankles, and Layal's tortured face. For a while at least, her cell mates band together as an extended de facto family. Then the political unrest outside the prison walls ignites within them. The Arab prisoners go on strike, and Layal is forced to chose between ideology and family when the prison authorities threaten to remove her child if she doesn't break her protest.
The prison conflict sequences are handled well – a suffocating pall of tear gas subdues the women, but not before a young inmate has been felled by a reckless bullet. But there are plot points – a hunky Arab love interest in the prison hospital for example – which can undermine the tough-minded message of the film with sentimentalism.
Production companies: Orjouane Productions, Nour Productions, Les Films d'Ici

International sales: Intramovie, paola.corvino@intramovies.com
Producers: Sabine Sidawi ,Charlotte Uzu
Screenplay: Mai Masri
Cinematography: Gilles Porte
Editor: Michele Tyan
Production designer: Hussein Baydoun
Main cast: Maisa Abd Elhadi, Nadira Omran, Abir Haddad, Karim Saleh