A thought-provoking debut by Polish actress Ewa Bukowska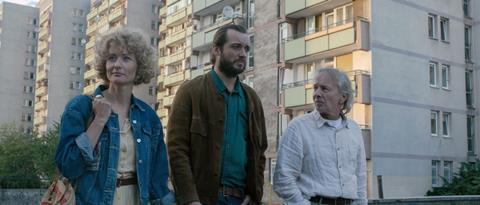 Dir: Ewa Bukowska. Poland. 2018. 79 mins.
The theme of 53 Wars – the domestic price of being a war correspondent – may feel over familiar, having been covered recently by 1,000 Times Good Night and Louder than Bombs, among others. But by switching focus from the correspondent to the partner at home, and offering a reminder that you don't have to experience a war zone to suffer from PTSD, Ewa Bukowska creates an inventively wrought and thought-provoking psychological drama.
What's impressive about the film is the way in which it imaginatively externalises Anka's struggle, while staying one notch short of histrionics
Without such established names as Juliette Binoche and Isabelle Huppert in those two films mentioned, the Polish actress's first feature as writer/director could struggle for the same international reach theatrically. However, its topicality and intense realisation merit arthouse play. Television could also offer a welcoming berth.
As accomplished war reporter Witek (Michał Żurawski) moves constantly from one conflict to another, his wife Anka (Magdalena Popławska) holds the fort with the children at home. Anka used to work for the World Bank, in a role that took her, also, to crisis countries. Yet she's sacrificed her own ambition and inclinations to offer her husband what she calls "his guarantee" of normality and stability.
The problem is that no-one is anchoring Anka, through her constant fearfulness for her husband's safety. Bukowska puts her cards on the table at the outset, as a shrink asks a frazzled Anka, "Do you know why you're here?" The film will chart what has been a spectacular mental collapse.
Blandly played by Żurawski (pony-tail and "silent strength" is a dodgy combination), Witek seems typical of the breed – addicted to a sense of self-importance, with more empathy for the people he meets overseas than those in his own life. Phoning from Afghanistan or Chechnya (it's hard for us, let alone poor Anka to keep up), he tells her that he's witnessing a scene that is "weirdly beautiful and terrifying at the same time." Words that she hardly needs to hear. When they make love, both act is if they're expecting a bomb to drop at any moment.
Many people in similar situations as Anka's do cope. There's an inference that she is partly undone by her greater understanding of the danger her husband is in, and partly by the fact that she feels she's missing out.
Her state of mind manifests in a variety of ways: early on, she literally tears up the apartment, in a bid to recreate and share the conditions in which her husband is living; she later suggests joining him as his photographer; when he tells her about a Chechnyan woman who was raped, Anka walks around pretending to be that woman. The turning point is the death of Witek's actual photographer, after which she's hugging the walls. Expecting her husband's death is so exhausting that she comes to crave it.
What's impressive about the film is the way in which it imaginatively externalises Anka's struggle, while staying one notch short of histrionics. The willowy and compelling Popławska carries the weight of it, often in close-up, conveying a nuanced passage from normal anxiety to obsession, delusion and derangement; admirably, she never seeks the audience's sympathy for her character, who demonstrates an ordinarily shocking disinterest in her children.
Cinematographer Tomasz Naumiuk employs filters and tracking shots to accentuate Anka's alienation as she roams her building's empty halls and stairwells, the sound design crackling with the TV static, unanswered phone lines and sirens of her inner turmoil.
Production company/international saes: Munk Studio-Polish Filmmakers Association, a.kot@sfp.org.pl
Producers: Jacek Bromski, Ewa Jastrzębska, Jerzy Kapuścisńki
Screenplay: Ewa Bukowska, based on the book by Grażyna Jagielska
Production design: Anna Anosowicz
Editing: Agnieszka Glińska
Cinematography: Tomasz Naumiuk
Music: Natalia Fiedorczuk-Cieślak
Main cast: Magdalena Popławska, Michał Żurawski, Kinga Preis, Dorota Kolak, Krzysztof Stroiński