An ordinary guy goes on the run from his psychotic girlfriend in this fast-paced horror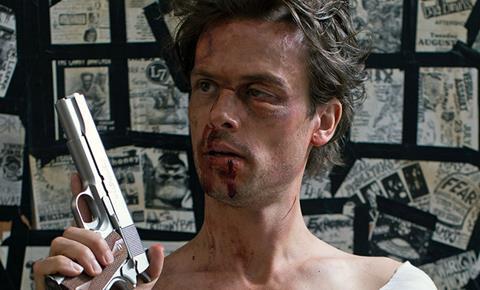 Dir/scr: Trent Haaga. USA. 2017. 93mins
In this fast-paced shaggy dog noir, a nice-ish guy gets deeper in trouble over the course of a long night thanks to a series of poor choices - all related to the women in his life. Given that Chip (Matthew Gray Gubler, fresh from Criminal Minds) starts out with a dead-end job emptying cesspools and an ex-stripper girlfriend whose insistent sexual demands leave him battered and scratched, it's a dark miracle that things manage to get worse for him.
Video nasty-level infusions of outrageous gore and squalour
A similar trick is managed by writer-director Trent Haaga, adapting a novel by Bryan Smith, in that this potentially depressing trip into the seamy side of contemporary America emerges as more engaging and exciting than sordid. It's full of potentially offensive material, but played so deftly most audiences will chuckle rather than upchuck.
Former pole-dancer and full-time hellcat Liza (AnnaLynne McCord, following up her outstanding turn in Excision) talks Chip into a night-time raid on the house of their lecherous landlord, intent on stealing $68,000 he has stashed in a safe. She insists they take loaded guns but assures him no one will get hurt … but, of course, she's lying. Even after the first few expedient murders, Chip is appalled when Liza wants to sell Violet (Alisha Boe), an innocent found in the landlord's house, to her brother Dwayne (Sam Eidson), a shut-in serial killer who needs his victims delivered.
Going on the run from Liza with Violet (and the money), Chip is surprised to find the new woman in his life even more desperate and almost as crazy as the old. A late-night stop at a gas station brings him into contact with goth chick Monica (Sheila Vand, the vampire from A Girl Walks Home Alone at Night), who tries to hustle him for some of the stolen cash, initiating a further chain of events which leaves him at the mercy of an even more extreme bunch of crazies. And, of course, Liza is still on the trail…
Haaga previously scripted E.L. Katz's Cheap Thrills and directed Chop, which similarly have easygoing men dragged into nightmare scenarios by malign acquaintances. Indeed, the noir fable format has its roots in myriad films, with the likes of Robert Mitchum and Burt Lancaster frequently led astray by femmes fatales. Haaga's particular take, however, feels closer to the John Dahl's nineties films (Red Rock West, The Last Seduction) given a defiant trailer trash spin with video nasty-level infusions of outrageous gore and squalour (as an actor, Haaga cut his teeth on Troma movies).
That a sadistic serial killer can be merely a minor menace in this world, where seemingly everyone is a cackling degenerate or worse, says a lot about Haaga's commitment to going beyond the bounds of polite genre filmmaking. Threading through the acts of violence is a vein of sweetness - with tender moments for the amiable Gubler, the winning Boe and even the full-on McCord, which grace the horrors with quite a lot of charm.
Production companies: Snowfort Pictures, AMP International
US Distributor: IFC Midnight
International sales: Films distribution info@filmsdistribution.com
Producers: David Lawson Jr, Bob Portal, Travis Stevens
Executive producers: Inderpal Singh, Stephanie Trepanier
Cinematography: Needham B Smith
Editor: Valerie Krulfeifer
Music: James Griffiths and Haim Frank Ilfman
Production design: Angela Gail Schroeder
Main Cast: Matthew Gray Gubler, AnnaLynne McCord, Alisha Boe, Sam Eidson, Sheila Vand