Award-winning feature about a young girl growing-up in rural Quebec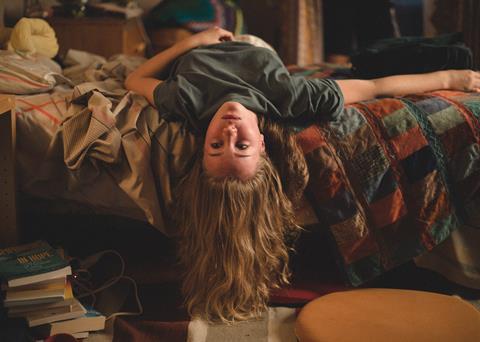 Dir/scr: Geneviève Dulude-De Celles. Canada. 2018. 102mins
A 12 year-old girl attempts to navigate the rocky social terrain of her new high-school in French-speaking Quebec in this poised, insightful feature debut from documentary and short film-maker Geneviève Dulude-De Celles. While this coming-of-age narrative hits all the familiar beats — drunken house parties, fumbled sexual encounters, a confused sense of self — A Colony also showcases an emotional sensitivity and cultural specificity that gives it a strong individual identity.
This familiar dance is handled with a quiet dignity by both writer/director DeCelles and her accomplished young star Emilie Bierre
A Colony comes to Berlin's Generation KPlus after winning both the Grand Jury Prize and Audience Award at the Quebec Film Festival late last year, along with a trio of awards, including Best Canadian Feature, Best Director and Best Performance, at Whistler in December. Further festival interest seems assured, and domestic audiences should also respond strongly. Internationally, the picture could resonate with art house audiences who sought out the likes of Celine Sciamma's Girlhood or Joachim Trier's Thelma.
Teetering on the very edge of adolescence, 12 year-old Mylia (Emilie Bierre), who lives with her younger sister Camille (Irlande Cote) and their unhappily married parents in rural Quebec, finds her world shifting when she starts at her new high school. Already a geographical outsider, having to travel almost an hour by bus from home, the shy, naive Mylia doesn't fit in with her more streetsmart classmates. Past experience of bullying, hinted at in conversations at home, makes her even more guarded.
Soon, however, she crosses paths with two fellow students who will have an impact on the way she sees herself; Jacinthe (Cassandra Gosselin-Pelletier), confident in her fashionable clothes and encouraging Mylia to drink and have sex, and floppy-haired Jimmy (Jacob Whiteduck-Lavoie) who, as a member of the local Abenaki tribe, also finds himself on the social periphery. As she forges friendships with both, and as her parents' marriage disintegrates, Mylia must decide whether to change herself to fit in, or embrace her uniqueness.
This familiar dichotomic dance is handled with a quiet dignity by both writer/director DeCelles and her accomplished young star. Apart from one climactic release of pent-up rage, Mylia is not one to rail, or even to sulk; she moves through each situation as it arises and, while she may not make the best choices, the film never judges or defines her by her actions.
With the character of Jimmy, and via heated classroom discussions about Canada's colonial past and the woeful fate of indigenous peoples throughout history, A Colony strays into more politically charged territory. While the issue is not explored much beyond the blunt-edged debate of these cloistered teens, there are clear parallels being drawn between Mylia's explorations of identity and wider notions of cultural individualism and global homogenisation.
Evocative cinematography from Lena Mill-Reuillard and Etienne Roussy underscores the crossroads at which Mylia finds herself. Sumptuous wide-shots capture the beautiful countryside where Mylia and the charmingly free-spirited Camille play with abandon, while school sequences are generally captured in claustrophobic close-up. During these often difficult moments, including a desperately uncomfortable bathroom altercation with an over-amorous boy, the camera stays tight on Mylia's face as she silently struggles with decisions that, she seems to realise, will leave any notion of childhood firmly behind.
Production companies: Colonelle Films
International sales: Indie Sales mgondre@indiesales.eu
Producers: Sarah Mannering, Fanny Drew
Production design: Eric Barbeau
Editing: Stephane Lafleur
Cinematography: Lena Mill-Reuillard, Etienne Roussy
Music: Mathieu Charbonneau
Main cast: Emilie Bierre, Irlande Cote, Jacob Whiteduck-Lavoie, Cassandra Gosselin Pelletier