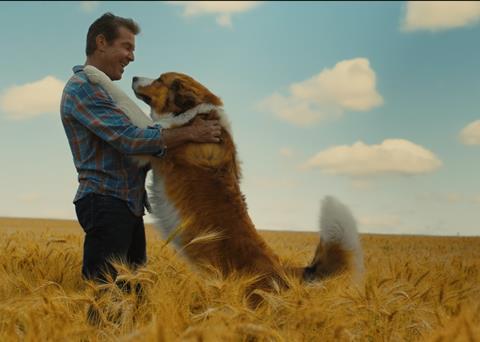 Dir/scr: Gail Manusco. US. 2019. 108 mins.
All dogs certainly go to heaven in A Dog's Journey, the follow-up to A Dog's Purpose. After multiple heart-wrenching departures, they gambol through a golden wheat-filled field of dreams before being reincarnated as yet another version of Bailey (voiced by Josh Gad). This tale of canine devotion through the ages is so doggedly aimed at teenage girls it even has K-pop romantic lead Henry Lau to add to all the puppies.
A big, wet, sloppy lick of a film that's going to jerk your tears, and then some.
A Dog's Journey is certainly manipulative - humans aren't safe here either, with a significant cancer side-plot. At times, it even seems obsessed by death. Yet there's something oddly cathartic about sobbing your way through this film, with its mash-up of Buddhism and All-American values. (Childhood sweethearts are highly valued in this budding franchise, and Bailey is, after all, a guardian angel.) It could sit up commercially: under the solid if treacly direction of Gail Manusco Journey is better than its predecessor and, yes, the dogs are all adorable. This may be significant off-leash, long-tail counter-programming in the age of Avengers.
Adapted by W. Bruce Cameron and several collaborators from his own novel, Journey reunites the viewer with Bailey, a Pyrenees Mountain Dog, and his owners Ethan (Dennis Quaid) and Hannah (Marg Helgenberger), whose story was told in the first film (although it's not necessary to have seen Purpose). Their son has died in an unspecified accident, leaving behind a young widow Gloria (Betty Gilpin, excellent) and her toddler daughter CJ in the idyllic farm Ethan has inherited. Bailey is getting old, as is Ethan.
When Gloria, a self-obsessed frustrated singer who is overly fond of the chardonnay, takes CJ away to a life we know will be very difficult without her loving grandparents, Ethan charges the dying Bailey with seeking out the young girl and protecting her. This is – arguably, because there's a lot to choose from – the film's most emotional scene. Thankfully, however, it's quickly followed by a fluffy puppy, as Bailey is sequentially reincarnated as Molly, Big Dog and Max.
They've all got plenty to do. Gloria is horrible to CJ – played as a child by Abby Ryder Fortson and later by Kathryn Prescott. She's essentially abusive, leaving the child alone at night, bashing her self-confidence, and not believing when CJ is attacked by the local bad guy she briefly dates. Following on, perhaps, from Cameron's other hit novel 8 Simple Rules About Dating My Teenage Daughter, there's a lot in here about a young girl finding her self belief. Later on, she falls for another meanie who mocks her desire to be a singer (although, in fairness, she really isn't that great.) The various dogs guide her back into the ambit of her childhood best friend, but more tragedy may be on its way.
Thank goodness for Gad's voiceover, as Bailey cheerfully sniffs butts and waits for the bacon to drop. Sure, A Dog's Journey is heavy-handed. Colours are only ever primary, the sun is always shining – unless a dog is dying – the music is drippily instructive, and every character is broad-brush, starting with the Chinese schoolboy whose parents make him study too much all the way through to boozehound single mum Gloria. Still, though. This is hardly one for the cynics. It's a big, wet, sloppy lick of a film that's going to jerk your tears, and then some. Beware of the dog.
Production companies: Amblin Entertainment, Reliance Entertainment, Pariah
International distribution: Universal
Producer: Gavin Polone
Screenplay: W. Bruce Cameron, Catheryn Michon, Maya Forbes, Wally Wolodarsky, based on the novel by W. Bruce Cameron
Cinematography: Roger Stoffers
Production design: Eric Fraser
Editing: Robert Komatsu
Music: Mark Isham
Main cast: Kathryn Prescott, Abby Ryder Fortson, Emma Volk, Josh Gad, Betty Gilpin, Marg Helgenberger, Henry Lau, Dennis Quaid, Ian Chen, Jack Manley, Daniela Barbosa, Conrad Coates