A young Chinese boy confronts the end of his way of life in rural China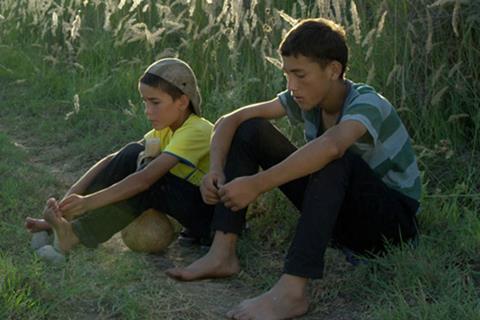 Dir/scr. Lina Wan. China. 2018. 86mins
The daily worries of rural life inform A First Farewell, an intimate and affecting debut from Chinese filmmaker Lina Wan. Dedicated to her hometown of Shaya, Xinjiang, and filled with both affection and a clear-eyed understanding of its woes, this Uighur-language coming-of-age story is restrained in scale yet rousing in emotional impact. After premiering at the Tokyo International Film Festival and winning the event's Asian Future competition, further festival berths should beckon.
That Wan wanted to craft a cinematic tribute to her hometown is especially evident in A First Farewell's wide, crisp, eye-catching visuals
Wan approaches A First Farewell as her pre-teen Muslim protagonist Isa (Isa Yasan) approaches his modest but mostly happy life: with fondness for the little things. The feature's story might be slight, focusing on Isa's key bonds with family, friends and farmyard animals, but there's depth in the details, be it in the fourth grader's tender care for a baby lamb that he treats like a sibling, or in rich images of northwestern China's field-dotted landscape.
Isa tends to his deaf-mute mother (Ugulem Sugur) and helps his father (Yasan Kasimu) with their livestock, yet it's not his routine responsibilities that trouble him, but the idea that the way he dutifully spends his time could be coming to an end. Isa's older brother (Moosa Yasan) is being sent away to school, while his father wants to institutionalise his mother so that they can better focus on their land. Neighbour Kalbinur (Kalbinur Rahmati), for whom he harbours a schoolboy crush, is also set to move as her parents (Tajigul Heilmeier and Rahmati Kranmu) seek to provide their children with a better education.
Kalbinur's plight earns almost as much screen time as Isa's, including her mother and father's discussion of language; they speak Uighur, as does everyone else in the village, although the children study the now-essential Mandarin at school. When the girl fails her exam, she's publicly admonished in class and privately scolded at home.
Writing and directing, Wan layers such important everyday insights into a narrative that builds towards the event referenced by the film's title. When Isa reads a story at school that's also called 'A First Farewell' it seems a convenient inclusion, but everything else within the film always remains sincere and sensitive. Indeed, the fact that the movie's youthful lead will have to say goodbye to his childhood might be inevitable, but it never feels as standard as it sounds.
Assisting immensely are some naturalistic performances, particularly from Yasan, who leads the feature with the same type of engaging realism that has endeared Lion's Sunny Pawar and Capernaum's Zain al Rafeea to audiences in recent years. Emotion dances across his expressive face, although when the film favours more overt methods of conveying Isa's thoughts — such as in a wise-beyond-his-years letter written to his brother, conveying his wish for their family simply to remain together — it does so with delicacy.
Strong technical work by director of photography Li Yong and sound designer Li Danfeng captures the sights and sounds of Isa's existence, paying keen attention to the minutiae of his surroundings. That Wan wanted to craft a cinematic tribute to her hometown is especially evident in A First Farewell's wide, crisp, eye-catching visuals, including shots of cattle being led through fields, of Isa's family walking through cotton, and of the boy and his friends surveying their home from the lofty heights of a tree branch.
Production companies: Shanghai Eternity Media and Culture Co Ltd
International sales: Flash Forward Entertainment, patrick@ffe.com.tw
Producers: Qin Xiaoyu, Cai Qingzeng
Production design: Qin Xiaoyu
Editing: Matthieu Laclau
Cinematography: Li Yong
Music: Wenzi
Main cast: Isa Yasan, Kalbinur Rahmati, Alinaz Rahmati, Moosa Yasan, Yasan Kasimu, Ugulem Sugur, Tajigul Heilmeier, Rahmati Kranmu