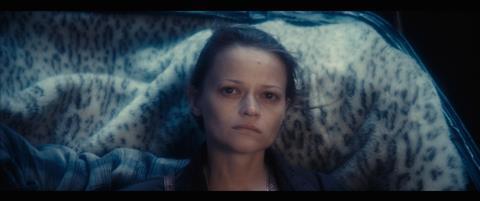 Dir/scr Sergei Loznitsa. Fr/Ger/Lith/Neth, 2017. 143mins.
Ukrainian feature and documentary maker Sergei Loznitsa's first dramatic film since In The Fog (2012), A Gentle Creature is a grim state-of-the-nation fable, a bitter mix of tragedy, farce and road movie soaked in the bleak sardonic spirit of Gogol and Dostoyevsky, not to mention gallons of vodka.
This simmering condemnation of a country's moral bankruptcy is unlikely to go wide in Moscow anytime soon.
t's also a long and uneven film, derailed by a misguided, preachily satirical dream sequence that takes up most of the final half hour. Up to then, this story of a simple woman determined to track down her incarcerated husband, who has somehow 'disappeared' while in prison, manages to juggle drama and national metaphor with some finesse. A Gentle Creature (Krotkaya) seems destined to divide audiences as it divided critics following its Cannes competition press screening, but even those who regard it as an over-ambitious misfire will salute that ambition.
Although its barbs are aimed as much at the Russian soul as at the Russian government, this simmering condemnation of a country's moral bankruptcy is unlikely to go wide in Moscow anytime soon. It was not even filmed there: locations in south-eastern Lithuania stand in, convincingly, for the Baltic country's muscular next-door neighbour.
At the still centre of the story is the woman to whom the title alludes – the only thing, apart from Slavic introspection, that A Gentle Creature shares with its Dostoyevsky short-story namesake. Never named (and henceforth referred to as "the woman"), she is played with impressive passivity by theatre actress Vasilina Makovtseva, in her first film role.
The woman, who hardly strings together more than four or five words in the course of the film, is like a timid animal galvanized into uncertain determination. She's first seen returning by bus to a country home which, though dilapidated, seems at least to hint at the rural dacha ideal, still something of a nostalgic comfort blanket in Putin's Russia. It's a security she will soon forfeit: when a parcel she sent to her husband in prison is returned with no explanation, the woman embarks on a journey to the distant town where her husband's jail is located, in search of answers.
She emerges from the station into a neat square with a bust of Lenin on a plinth at its centre to fall into the hands of a pushy taxi driver – the first, and most innocuous, of several local characters who will prey on the introverted woman. Possibly this is the town of Otradnoye near St Petersburg (a sign glimpsed just once suggests as much) but in reality, like the western Russian locations of Loznitsa's savagely brilliant debut film My Joy, it eludes geography to become a circle of an eminently Russia version of hell.
In the course of her calvary – and there is something of the Christian martyr in the figure of the woman – she will be stonewalled by prison staff who twice refuse the parcel she has brought for her man, exploited by the landlady of a house that turns out to be a den of drunken debauchery, picked up by a pimp who works for a local mafia boss, and threatened by a pair of corrupt policemen. An interlude in the office of a human rights organisation – its volunteers dismissed as 'Fascists' by the locals – allows only a brief, illusory respite from the system's inexorable suppression of individual freedom and dignity.
Working once more with Moldovan cinematographer Oleg Mutu (whose credits include 4 Months, 3 Weeks, 2 Days, In Bloom and Beyond The Hills), the director is on top cinematic form in A Gentle Creature, juxtaposing a few brief, melancholic golden-hour landscape shots with cramped interiors – buses, train compartments, waiting rooms, cars and nightclubs – that suggest Russian prisons are not just of the penal variety. A masterful multi-layered shot that occurs during the woman's police car ordeal is just one of several small miracles of visual storytelling. Music is mostly diegetic, with Soviet-era military anthems and sentimental love songs belted out by several characters along the way, stoking a maudlin patriotism whose dark underbelly Loznitsa sets out to illuminate.
A Gentle Creature is awash with references that only locals or committed Russophiles are likely to pick up on – as when the woman stops to ask directions to Dzherzhinsky Street – named after 'Iron Felix' Dzherzhinsky, the man who set up the Soviet secret police – and is told the easiest way is via Hegel Street and Marx Street (though there is also a shortcut). It's when this symbolic substratum bursts to the surface in a sub-Fellini fantasy dream sequence an hour and three quarters into the film's running time that Loznitsa's angry satire suddenly becomes strident and unsubtle. The film never regains its delicate balance between women's drama and parable of nationhood; but it remains a fascinating failure.
Production company: Slot Machine
International sales: Wild Bunch, sales@wildbunch.eu
Producer: Marianne Slot
Executive producer: Carine Leblanc
Cinematography: Oleg Mutu
Production design: Kirill Shuvalov
Editor: Danielus Kosanauskis
Main cast: Vasilina Makovtseva, Marina Kleshcheva, Lia Akhedzhakova, Valeriu Andriuta, Boris Kamorzin, Sergei Kolesov