A highly-topical and resonant trip down the alt-right rabbit hole, produced by Werner Herzog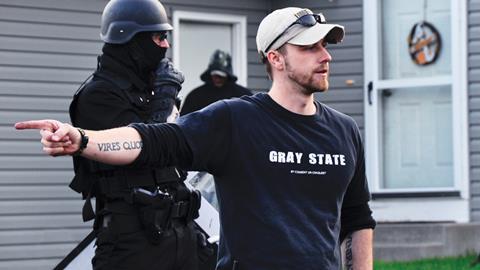 Dir. Erik Nelson. US, 2017. 93 min.
Everyone loves a conspiracy—which is one of the reasons that A Gray State, a tantalising and fascinating real-life story, makes for compelling viewing. But it's also supremely timely. Directed by Werner Herzog producer Erik Nelson (Grizzly Man, Cave of Forgotten Dreams, Into the Abyss), A Gray State proves to be a highly topical and resonant trip down the "alt-right" rabbit hole, exposing a Trumpian world where facts are rejected in favor of paranoia and conjecture.
A Gray State offers a powerful rebuke to the post-truth groups that subsumed both Crowley's life and his death
Premiering at the Tribeca Film Festival, A Gray State should find a welcome home among international broadcasters, film festivals and limited theatrical runs wherever politics has become a hook—that is to say, pretty much anywhere these days.
The documentary follows Iraq War veteran and aspiring filmmaker David Crowley as he sets out to make an ambitious dystopian sci-fi epic called Gray State. A right-wing libertarian vision of America as Police State, Crowley's film imagines a violent near future where the federal government begins taking away people's civil liberties. In his two-minute concept trailer, full of surprisingly high production values, Crowley envisions the US Federal Emergency Management Agency (FEMA) as a fascist police force, intent on interning and executing the American people.
As farfetched as it might sound, the project tapped a nerve among the rising alt-right and Tea Party activists—the trailer, posted on YouTube in 2012, hit over 2.6 million views. Crowley was soon heralded as a messenger for the movement. Even Infowars' Alex Jones, Donald Trump's favorite fake-news conspiracy theorist, shows up to endorse the project.
But if the documentary begins as some kind of American Movie for the alt-right, portraying a dedicated outsider filmmaker's efforts to make his very own blockbuster, the story abruptly turns darker. In January of 2015, Crowley was found dead along with his wife and daughter in their Minnesota home. Crowley's fans and devotees were quick to call foul play, suggesting that the US government assassinated one of their would-be leaders. But the truth, as director Erik Nelson reveals in his carefully plotted out and sympathetic investigation, is more tragic and sad than shadowy.
With incredible access to hours of personal home videos, pages of diary entries, thousands of photos, and most poignantly, interviews with Crowley's pained father, A Gray State eventually dispenses with conspiracy theories to focus on a more human—and ultimately familiar—story of how war can mess up a soldier's mind. While Crowley is initially portrayed as a lifelong fan of the military, a second, unanticipated tour of duty in Iraq pushed him to become cynical and likely traumatised.
Crowley's close friends and family describe the way he and his doting and devoted Muslim-born wife Komel Crowley slowly went from passionate dreamers to paranoid fantasists, closed off from each other and the outside world. The ultimate mystery of Crowley's case, then, becomes not if he was murdered, but how did he and his loving wife embark on such an irrevocable downward spiral together.
Along the way, A Gray State offers a powerful rebuke to the post-truth groups that subsumed both Crowley's life and his death. When we see Crowley's libertarian and former military friends criticise the Gray State fan-base as "legitimately insane," it's a lot more damning than hearing it from the left.
Executive produced by Werner Herzog, A Gray State offers some of the same macabre voyeuristic fascination as Herzog's Grizzly Man. For instance, we see in Crowley's own video footage a portrait of a possibly shell-shocked veteran, who is slowly losing his grip on his family, his film project, and reality. Herzog fans might also appreciate the appearance of a Minneapolis news correspondent, whose own sensationalistic reporting on the case recalls the testimony of Grizzly Man's Chief Medical Examiner Franc G. Fallico.
But aside from another possibly Herzogian touch—an unfortunate and awkwardly upbeat coda involving Crowley's dog —A Gray State offers a more compassionate view of a fringe figure than much of Herzog's work, revealing the catastrophic ways in which both the government and the alt-right community failed a man and his family, and not in the ways that Alex Jones might think.
Production company/international sales: A&E IndieFilms, molly.thompson@aenetworks.com
Producers: Amy Briamonte, Erik Nelson
Executive producers: Molly Thompson, Robert Sharenow, Elaine Frontain Bryant
Cinematographers: David Crowley, Thomas Kaufman
Editor: Lara Andre
Music: David Crowley
Featuring: David Crowley