A detective searches for a missing migrant worker in Singapore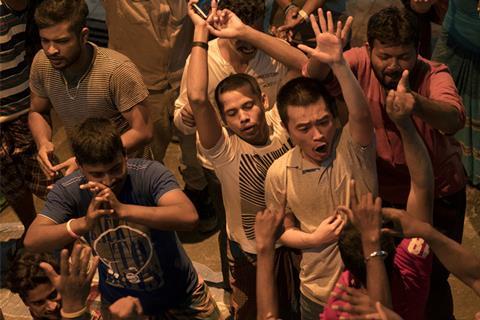 Dir/scr: Yeo Siew Hua. Sing-Fr-Neth. 2018. 96mins
A Land Imagined sets up expectations of a moody, film noir thriller as a dogged detective trawls the mean streets of industrial Singapore in search of a missing migrant worker. The switch towards something more unexpected is initially disconcerting, but ultimately reveals an ambitious filmmaker striving to subvert expectations. It may be too much to swallow for some tastes but further festival exposure should follow its world premiere at Locarno.
There is a feeling in A Land Imagined of Yeo Siew Hua experimenting with different styles and influences
Writer/director Yeo Siew Hua and cinematographer Hideho Urata swiftly establish a film noir-style ambience as detective Lok (Peter Yu) drives through a neon-lit Singapore like a latter-day Philip Marlowe or J J Gittes. City lights twinkle through the haze of tumbling rain and vast industrial landscapes are silhouetted against blood red skies. The score is jazzy, the mood is fatalistic and there is the sense that the case of one individual will reveal bittersweet truths about the state of the nation.
Just when we are emotionally invested in the lone, bone weary Lok and his quest to find the missing Wang Bi Cheng (Liu Xiaoyi), the character is frozen out of the film. The story turns in on itself to follow the fate of Wang, or at least a version of it. It is a cross between a conventional flashback and a chance to enter fully into Wang's sense of the world.
Wang is a lonely Chinese worker at a plant that specialises in reclaiming land. Migrant workers are considered cheap labour and are often heavily in debt to a company that considers them expendable. The company also retains their passports as a precautionary measure. It could be the basis of a Ken Loach-Paul Laverty collaboration, but what follows is a challenging blurring of Lynchian nightmare and paranoia with febrile speculation clashing against mundane reality.
Everything seems destined to make us consider Wang's story as indicative of exploitation, corrupt practices and a company and a country that are both literally built on shifting sands. A friendship with Bangladesh worker Ajit (Ishtiaque Zico) brings Wang a rare human connection. When Anjit disappears, Wang only grows more paranoid about how far the company will go to protect its interests.
There is a feeling in A Land Imagined of Yeo Siew Hua experimenting with different styles and influences to see what fits. Some of the neon-suffused images could belong to the world of Nicolas Winding Refn. The insomniac Wang is also befriended by Mindy (Luna Kwok), the sassy manager of a twenty-four cybercafe that he haunts like a ghost. Her smouldering, slow-motion swagger down a back street has a hint of Wong Kar Wai.
When the story returns to the present and the investigation by Lok, the film comes up with a set of explanations that make us see events in a very different light. In order to solve Wang's disappearance, Lok has to lose himself in Wang's life. The result forces the viewer to consider notions of truth and reality and also consider the lives of those invisible, unlamented figures on whom big cities are created and sustained.
Production companies Akanga Films Asia, mm2 Entertainment, Films De Force Majeure, Volya Films
International sales Visit Films info@visitfilms.com
Producer Fran Borgia
Production design James Page
Editing Daniel Hui
Cinematography Hideho Urata
Music Teo Wei Yong
Main cast Peter Yu, Liu Xiaoyi, Luna Kwok, Jack Tan