Sinead O'Shea's debut documentary explains how and why it happened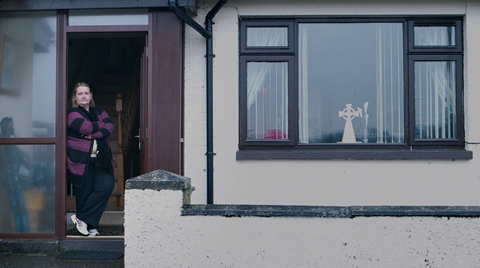 Dir/scr. Sinead O'Shea. Northern Ireland. 2017. 86 mins.
In what sort of place, and why, would a mother voluntarily deliver her son to masked gunmen to be kneecapped, shot in the back of both legs? Such a woman is Majella O'Donnell, who lives in the Creggan estate in Derry, Northern Ireland; her son is troubled-teenager Philly. If she brings him in, she is told, and accepts the punishment, he won't be murdered for low-level drug-dealing. So Majella brings her son to be shot, a mark of shame in her Republican community.
This speaks to how delicately peace is balanced in Northern Ireland – often by turning a blind eye to crimes past, passing and to come
Even a short time ago, Sinead O'Shea's documentary about the brutal street justice dispensed by outlawed Republican gangs in Northern Ireland would have been viewed as a footnote to 30 years of war there – of added interest to those involved in truth and reconciliation, or the PTSD effects of sustained guerrilla activity. Now the spectre of Brexit rises up as a dark shadow over her fascinating, gutsy, yet elusive film; in some places, she shows, 'the Troubles' never ceased after the Good Friday agreement of 1998 but have drilled down into a septic, twisted version of law and order that constantly threatens to flare up further.
O'Shea's five-year Odyssey starts in Creggan. It's a large, tough, tight-lipped and perpetually poverty-stricken housing estate on the outskirts of the formerly "Free Derry" which still harbours dissident Republican groups – outlawed gunmen who fill the vacuum caused by the lack of policing deemed acceptable to its residents. Law enforcement isn't to be trusted, but that leaves the area subject to paramilitary vigilantes, masked mafia-like thugs who are also involved in the drug trade. 'Go-betweens' with history as IRA sympathisers liase between the community and the nationalist gangs.
Termed "punishment" beatings or killings, this form of street "law" is extremely rough justice and speaks to how delicately peace is balanced in Northern Ireland – often by turning a blind eye to crimes past, passing and to come.
This is O'Shea's first feature-length doc and it acts as a companion piece, in a way, to Alex Gibney's No Stone Unturned, also from last year. The work is palpably more rough-edged and, even still, unfinished, but it's a work of considerable gumption as O'Shea returns to this family over and over again in an attempt to finish her story. It's a miracle they still speak to her. (Accents are so strong that subtitles are indispensable.) Both O'Shea and Gibney are brave film-makers working amongst violent, unpunished men in Northern Ireland, and there's much to be said about the male-female dynamic in Creggan and amongst survivors of a violent life who crave the adrenaline that provided, even if it's only a distant memory via their fathers.
O'Shea's documentary premiered at the London Film Festival in 2017 and is mid-way through a festival run. The time-lapse on the film's completion works mostly to its benefit. One of the more interesting characters here is that of younger brother Kevin Barry, who we see watching his older brother being shot and then expelled from Creggan to Belfast. O'Shea also witnesses the return of Majella's husband and the boys' father from prison; the rise of local activist Darren O'Reilly, and the deteriorating health of go-between Hugh Brady, an unreliable narrator if there ever was one.
While A Mother….is executive produced by Joshua Oppenheimer, the shooting style is rough and the edit is a tough, choppy one. In a way, that fits the millieu. Drone's eye views of the Creggan estate add a seductive texture to the piece and demonstrate how O'Shea's abilities just aren't centred around her tenacity and nerve.
Production companie: Blinder Films, SOS Productions, Spring Films
International sales: Cat & Docs, info@catndocs.com
Producers: Sinead O'Shea, Ailish Bracken, Figs Jackman
Cinematography: Richard Kendrick, Ross McDonnell, Edna O'Dowd, Sinead O'Shea, Paddy Stevenson
Editing: Enda O'Dowd
Music: George Brennan